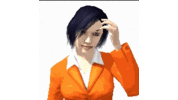 Nicki's primary job is to answer questions about the dangers of smoking and the smoking cessation aid, NicoBloc. However she has an extensive knowledgebase and can hold a reaaonable conversation and can play some unique games such as Mastermind and Roulette which are not available anywhere else.
Main purpose is to answer questions about giving up smoking in general and about quit smoking aid, NicoBloc, in particular.
Nicki is based on an enhanced Alice/Pandorabot knowledgebase and so will engage in general chatter if asked off-subject questions.
She was originally set up around 2008 but not shown to the public and has recently been updated and brought out of retirement to engage with web visitors.