Chatbot channel(s): Messenger, SMS, website chat
Overall rating (out of 5 stars):

Price (from $ to $$$$$):

If you've ever been curious about marketing chatbots, you've probably come across MobileMonkey.
Want to know how it stacks up against other chatbot platforms? This MobileMonkey review evaluates MobileMonkey on many of the factors important to businesses including feature-set, pricing and support options.
MobileMonkey allows you to build full-featured chatbots to connect with your audience, gain valuable data, and ultimately increase the amount of conversions through personalized communication.
MobileMonkey's most appealing features is that it allows marketers to build a chatbot that works simultaneously on the most popular messaging platforms. You can build a bot for Facebook Messenger, native web chat and MSS with one bot builder.
In this MobileMonkey review, I'll take an objective look at what MobileMonkey has to offer based on my experience, and share my unfiltered feedback.
MobileMonkey Review: Main Features of the Chat Platform
While you can do a lot with MobileMonkey, it's first and foremost a chatbot platform, so most of its features are built on that foundation.
With that in mind, I'll start by looking at the main chatbot functions.
The way MobileMonkey's chatbots work is by using different dialogues. As MobileMonkey explains:

MobileMonkey chatbots are made up of Facebook Messenger Dialogues that trigger based on what the user types or selects.


You can create Dialogues, which contain the message content, and Q&As, which trigger when a user sends a message that contains certain keywords. Together, these will make up the bulk of your chatbot.
First, let's look at creating Dialogues.
MobileMonkey makes it easy to set up and edit Dialogues. It has a simple interface that's quick to pick up.
For example, here's what the Dialogues creator looks like: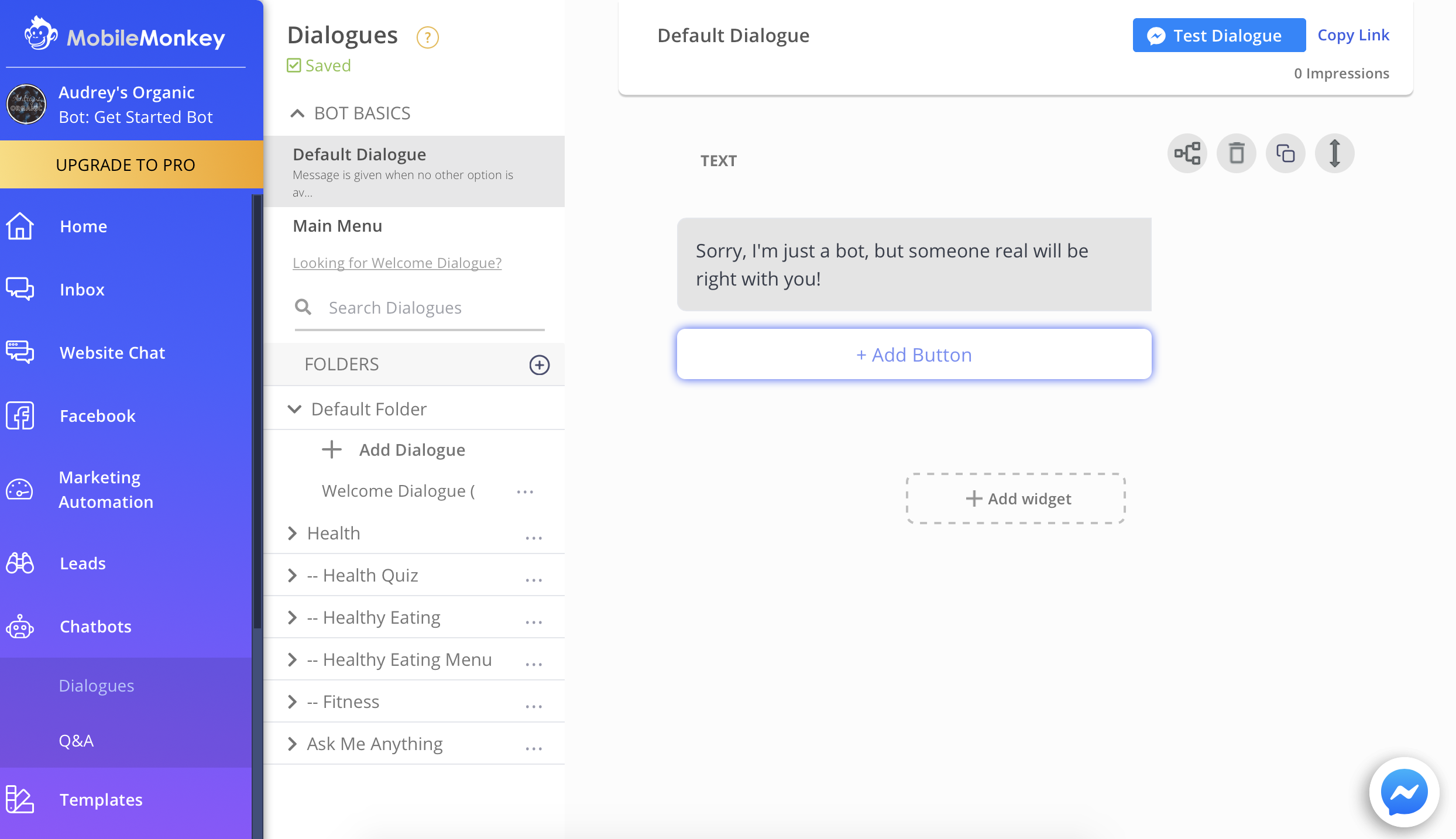 From here, you can create the Dialogues that people will see when they start a Messenger conversation with you.
At any point, you can test your chatbot using the practice chatbot in the lower right hand corner.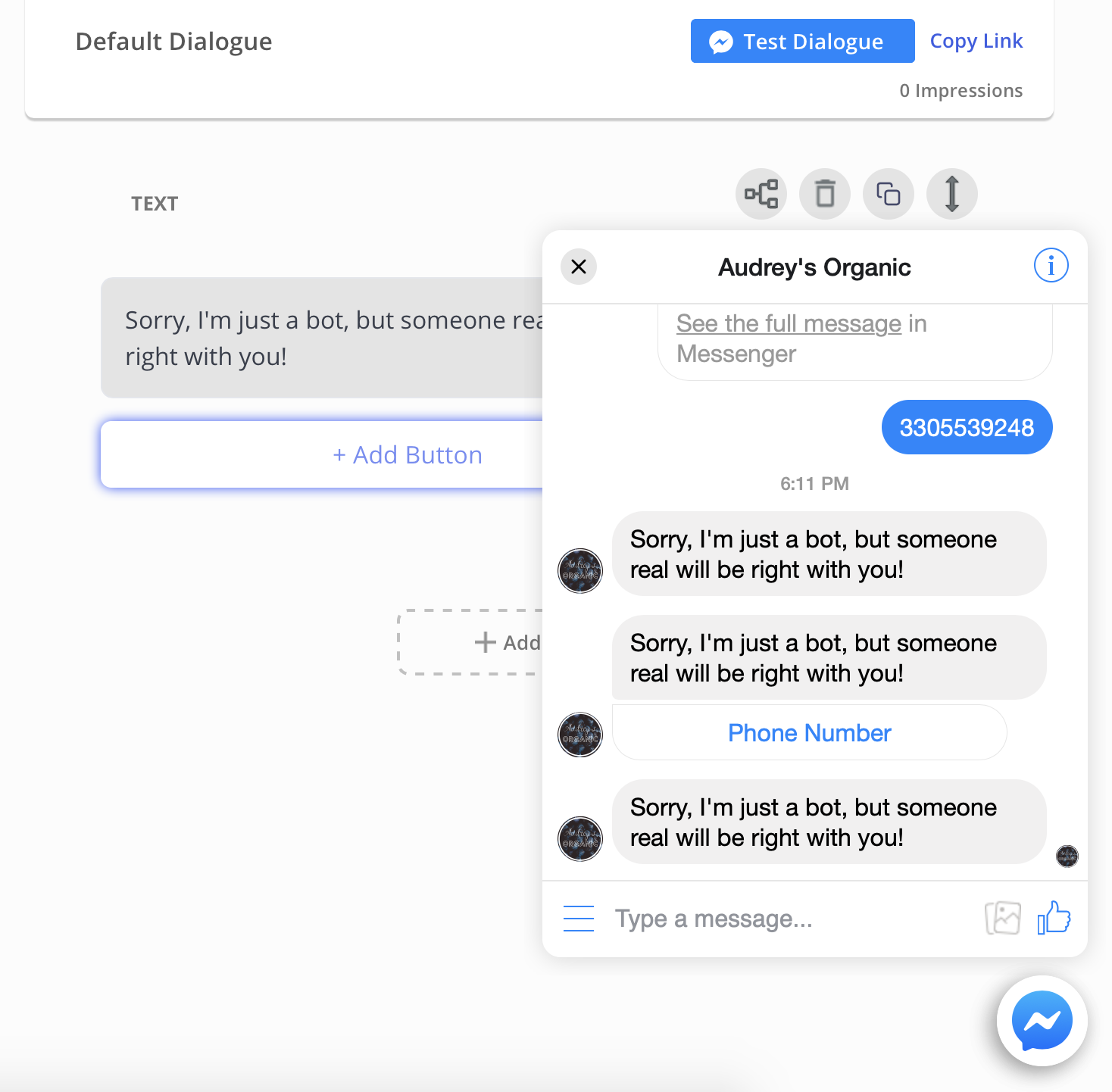 It's helpful to see in real time what your chatbot will look like to your customers. This allows you to quickly make changes to the content and flow of your bot.
You can even open up your bot directly in Facebook Messenger, one of three messaging channels supported in MobileMonkey, by clicking the Test Dialogue button in the upper right hand corner and then clicking again to open Messenger.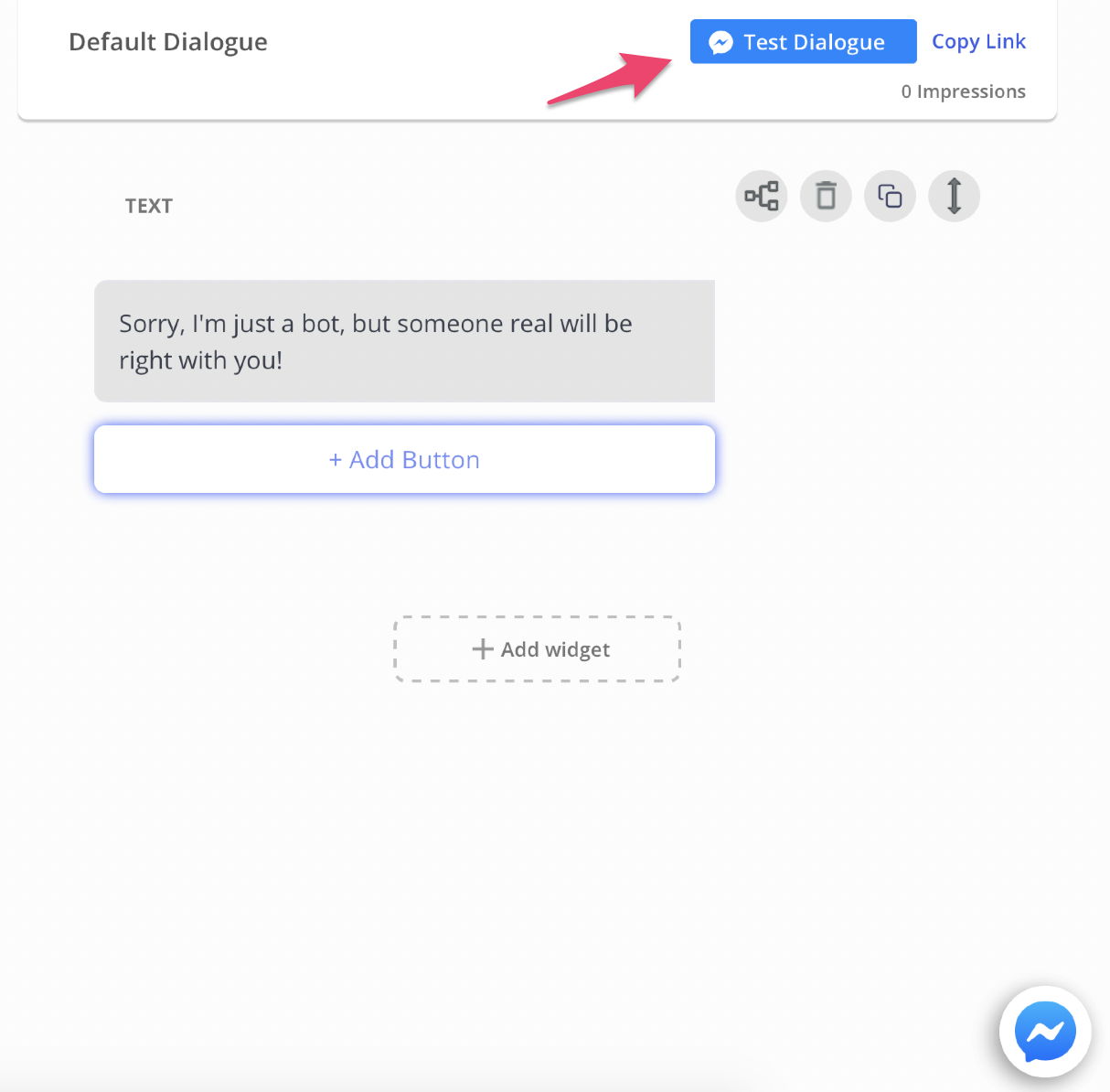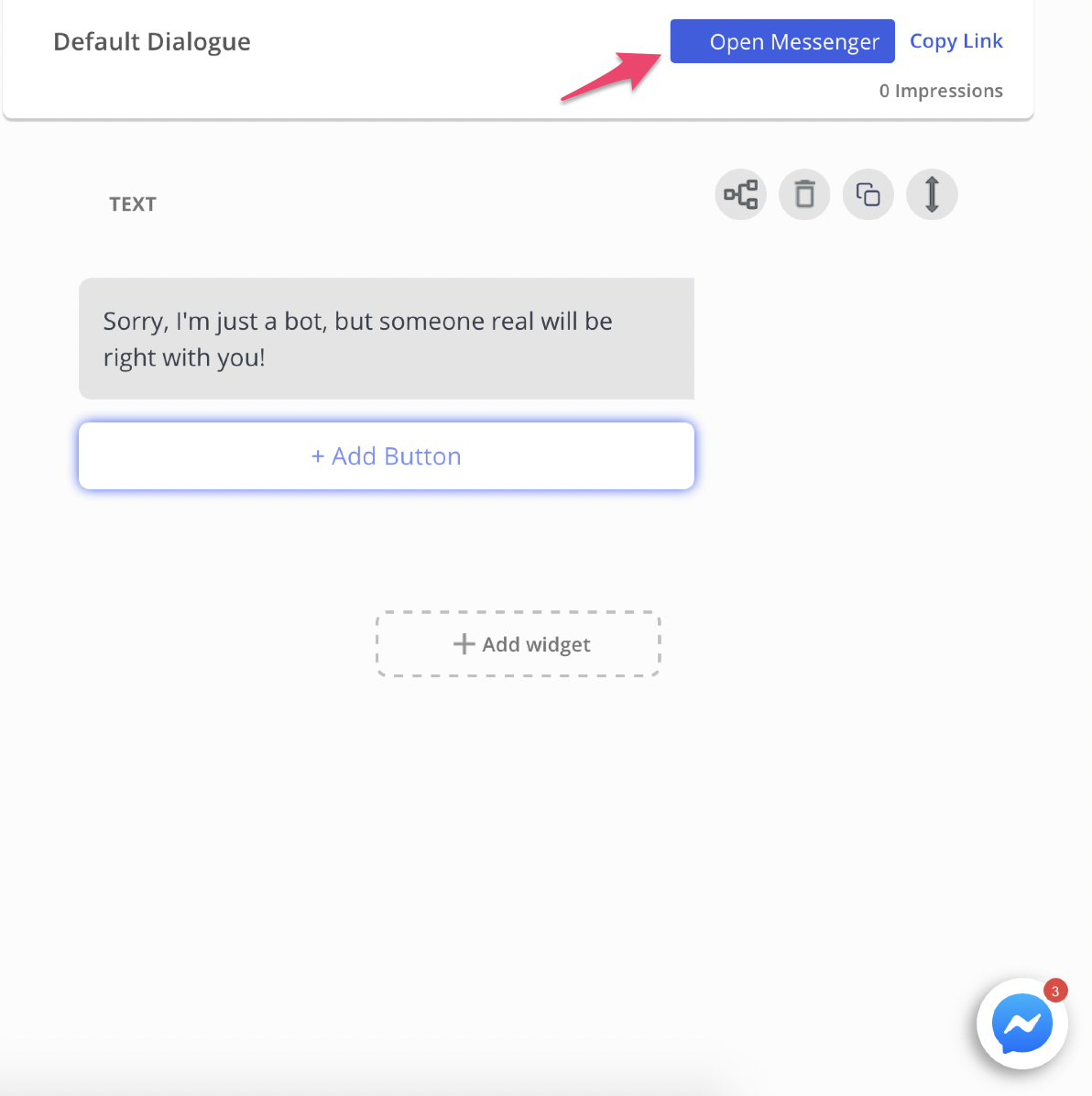 This will open Messenger in a new tab.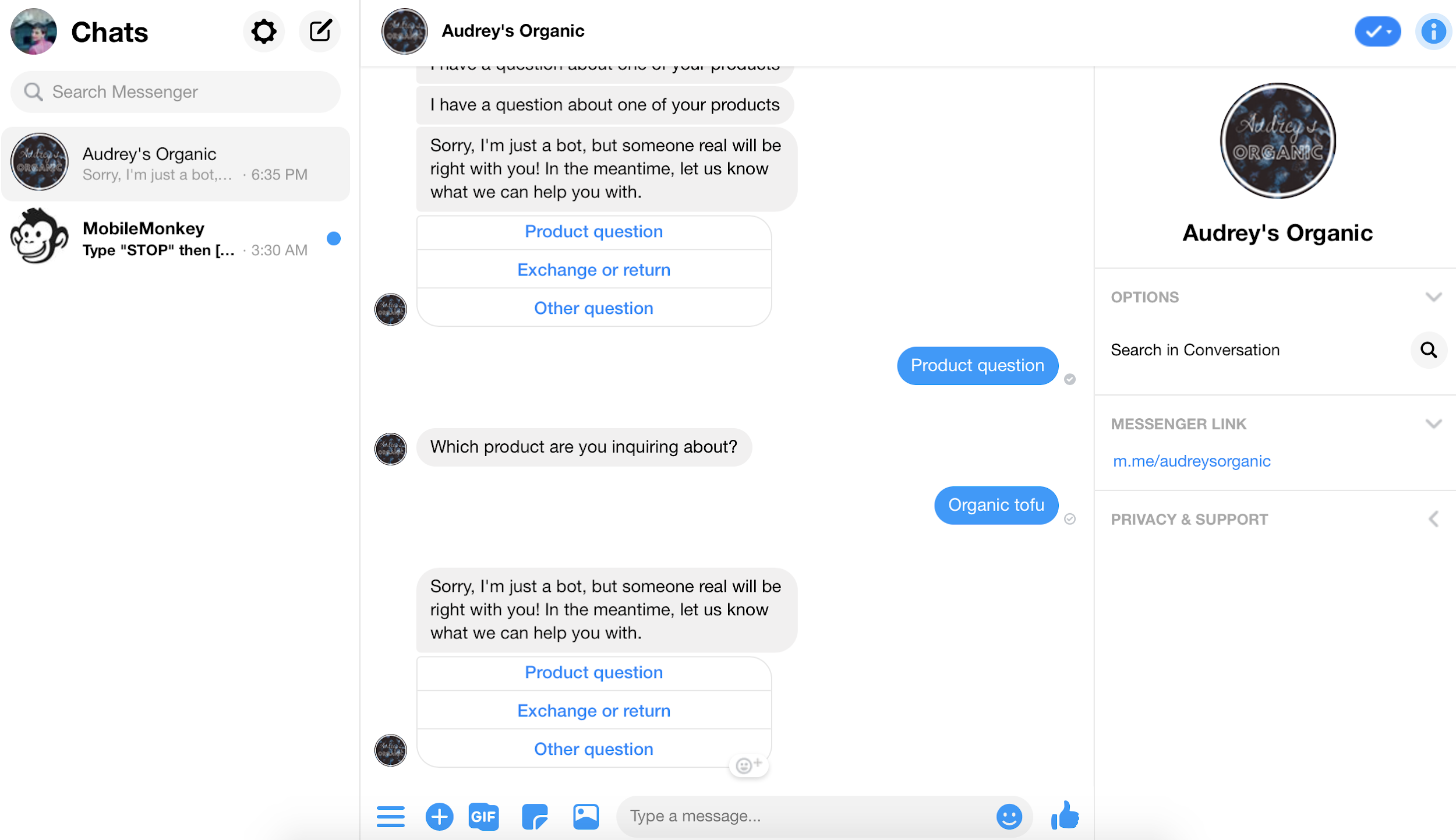 As you can see here, it's useful to test out different responses and make sure the flow of your chatbot is correct. In this case, I know I need to add another response so the bot doesn't circle around to the welcome dialogue.
Of course, if you have Facebook linked, you can also view the messages there.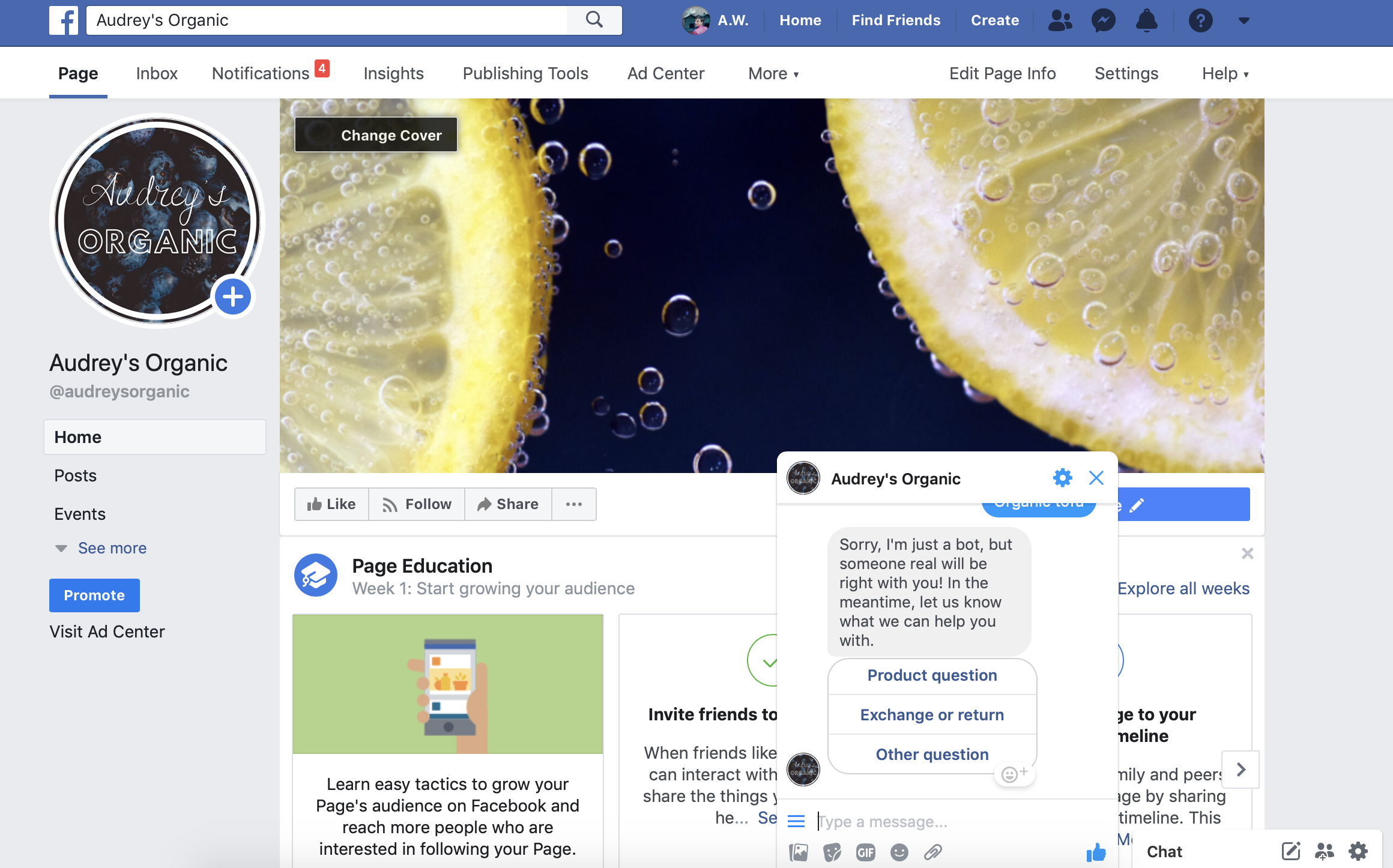 Next, let's look at creating Q&As.
Again, the interface is pretty straightforward: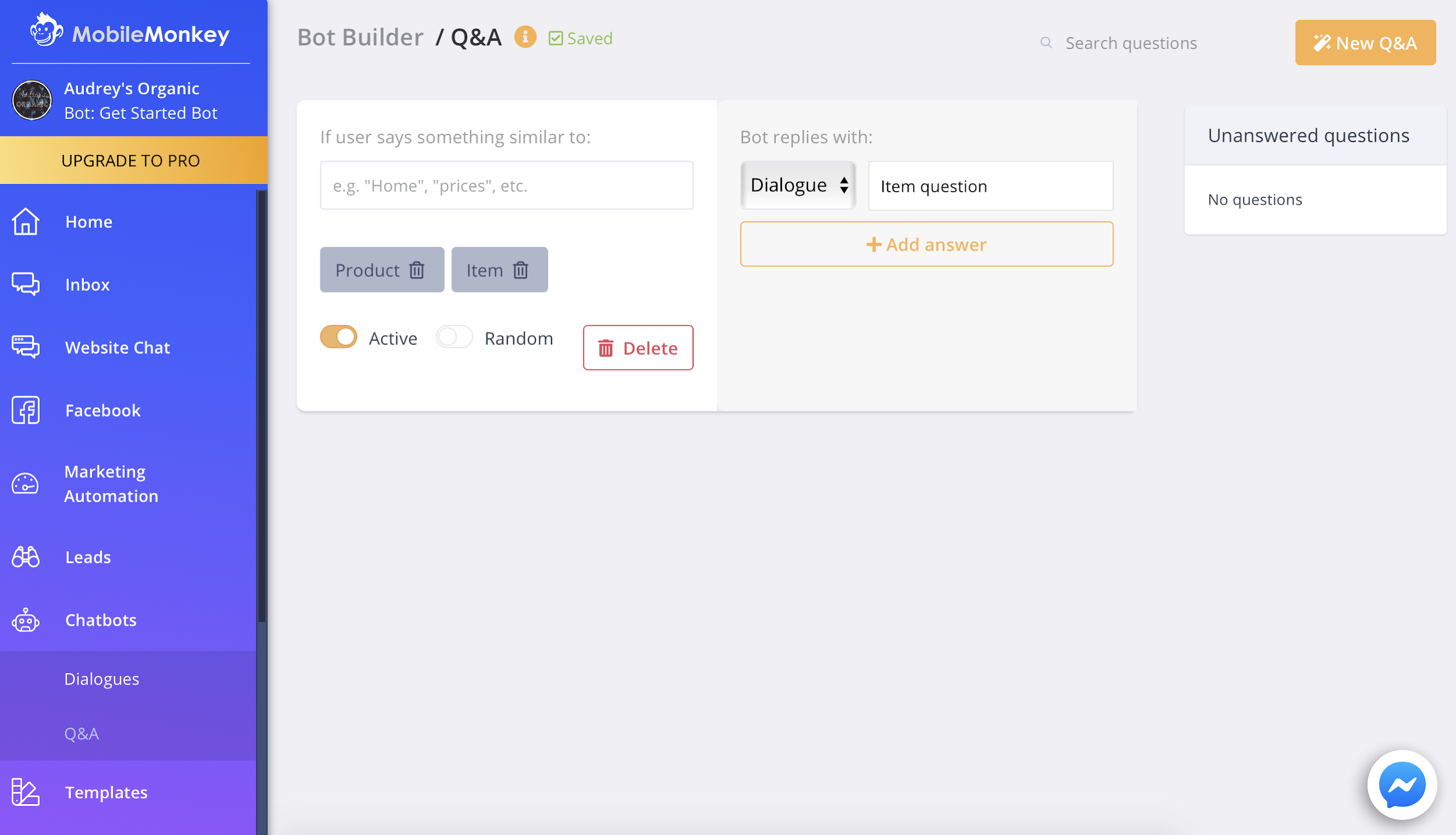 Here, I'm creating a chatbot flow for when people type a freeform response that includes the word "product" or "item."
I can always test this in the chatbot: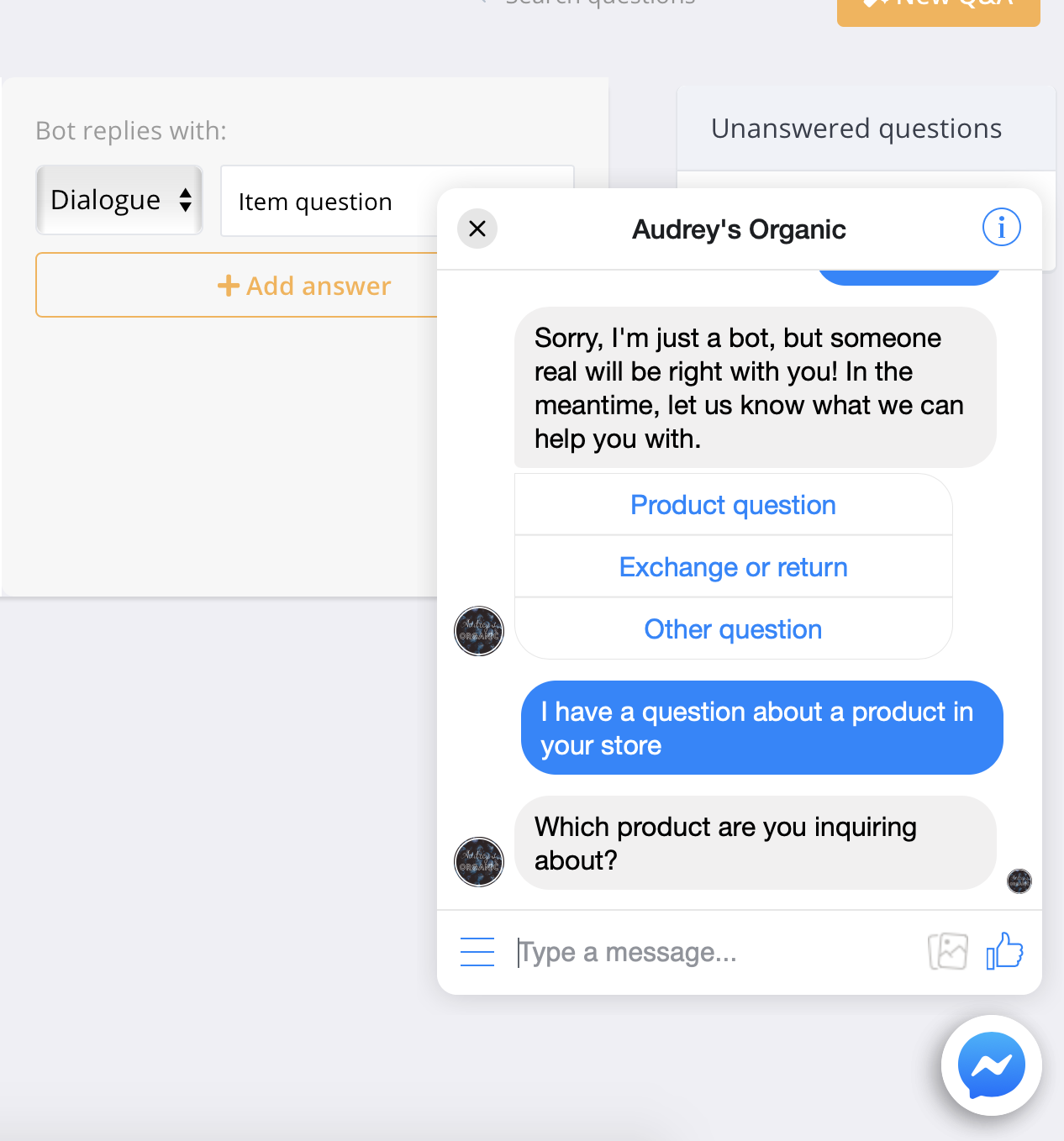 This way I can make sure everything's working on the fly.
These Q&A dialogues really help liven up your chatbots. You can create lots of Q&As that look out for certain keywords and respond specifically to those keywords, which creates a sense of rapport between your customer and your brand.
Since MobileMonkey is Facebook-based, they also offer a few handy Facebook tools.
First, there's Click-to-Messenger ads. These show up like regular ads but open a conversation directly in Messenger.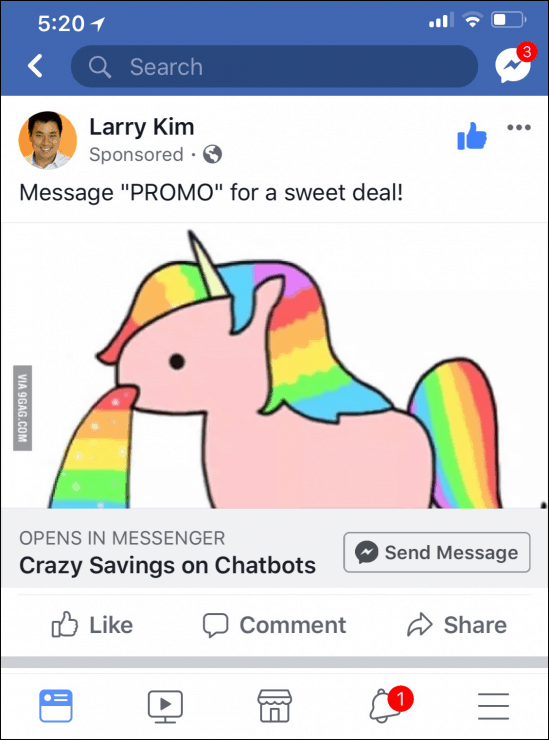 The user will message a certain keyword that then triggers your chatbot. It's a simple process, but it can be extremely powerful.
One of the advantages of this approach is a 100% conversion rate. Wait, 100% conversion rate? How is that possible? MobileMonkey explains how this works:
When a user clicks on your CTA to message you, they have opted into Messenger, even if they haven't directly given you an email yet. You can now message them at a later time on Facebook Messenger without paying to contact them again.
This is a pretty cool perk, and it's also unique to Messenger. Of course, this shouldn't be the only place you're driving conversions, but if you're not leveraging Messenger, you're missing out.
The last feature I'll look at is the ability to create a StartBot. This interacts with people who start a conversation by messaging your Facebook page.
The StartBot appears at the beginning of these conversations: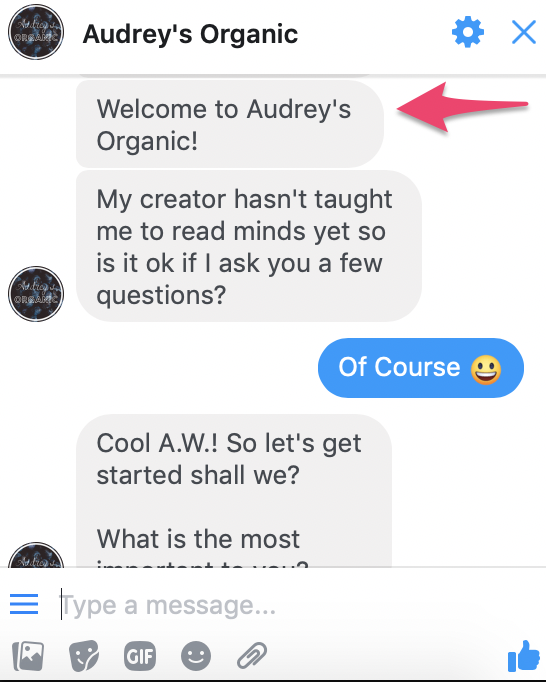 This is a great opportunity to customize a message that makes the best first point of contact for a new customer.
MobileMonkey has a lot more features, including website chatbots and marketing automation tools. Surprisingly, these are all available in the free version of the software (but we'll get to that a little later). Overall, MobileMonkey boasts a fairly wide range of versatile Facebook marketing tools.
Pros of MobileMonkey
MobileMonkey has a lot going for it. It's a simple, user-friendly chatbot platform with a surprising amount of heft behind it.
I want to highlight a few features in this MobileMonkey review as there were three pros that really stood out to me:
1. Extensive chatbot tools
This probably comes as no surprise, but MobileMonkey absolutely nails chatbot creation. You can do a lot with these tools and create amazing chatbot conversations that feel like you're talking to real people.
At the same time, it doesn't feel fake or forced. You're in total control, so you can create every Dialogue from scratch to give it that human touch.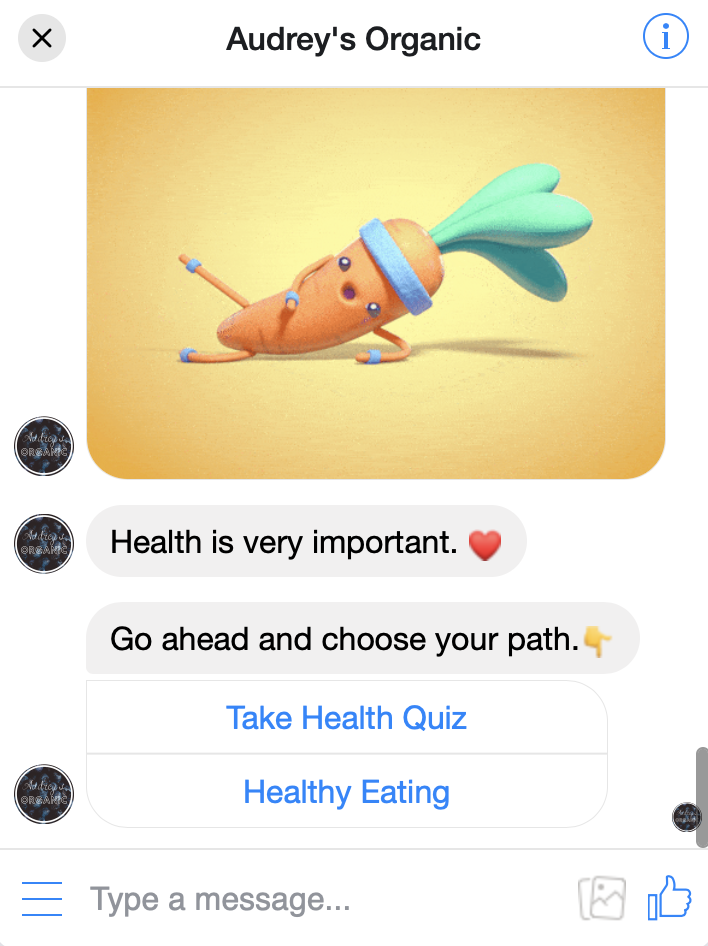 2. Interface
MobileMonkey's dashboard is very well designed.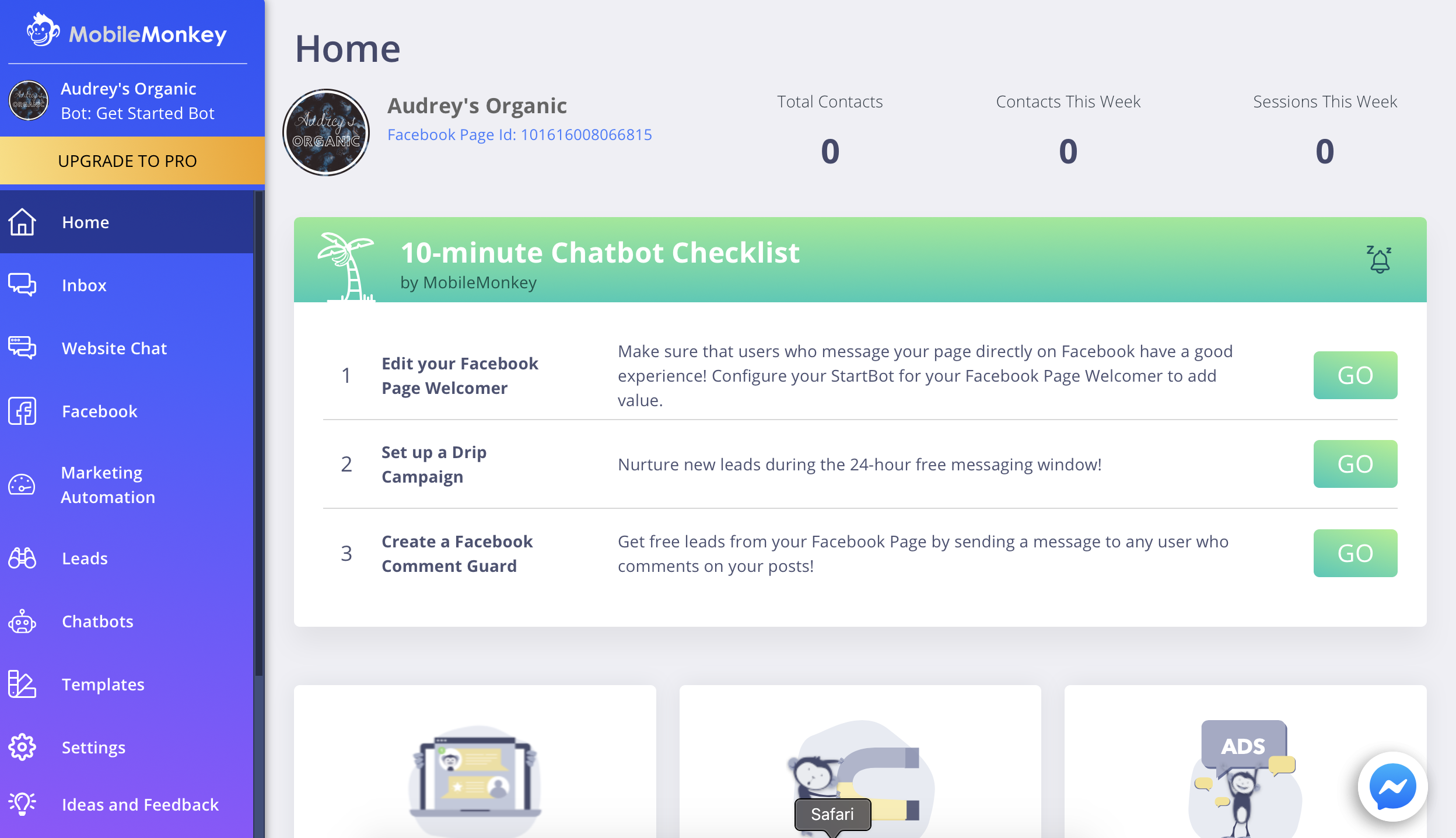 I was able to find everything in a flash, and I never felt lost or confused navigating between sections.
The design is especially impressive within each tab. Although MobileMonkey provides lots of helpful tutorials, I never needed to look at one. It was that intuitive.
3. Workflow
As I was building chatbots, I found the process very natural all the way through.
Since I didn't need to jump between lots of sections, I could work on one thing at a time, finish it, and move on to the next, which made for a really organic workflow.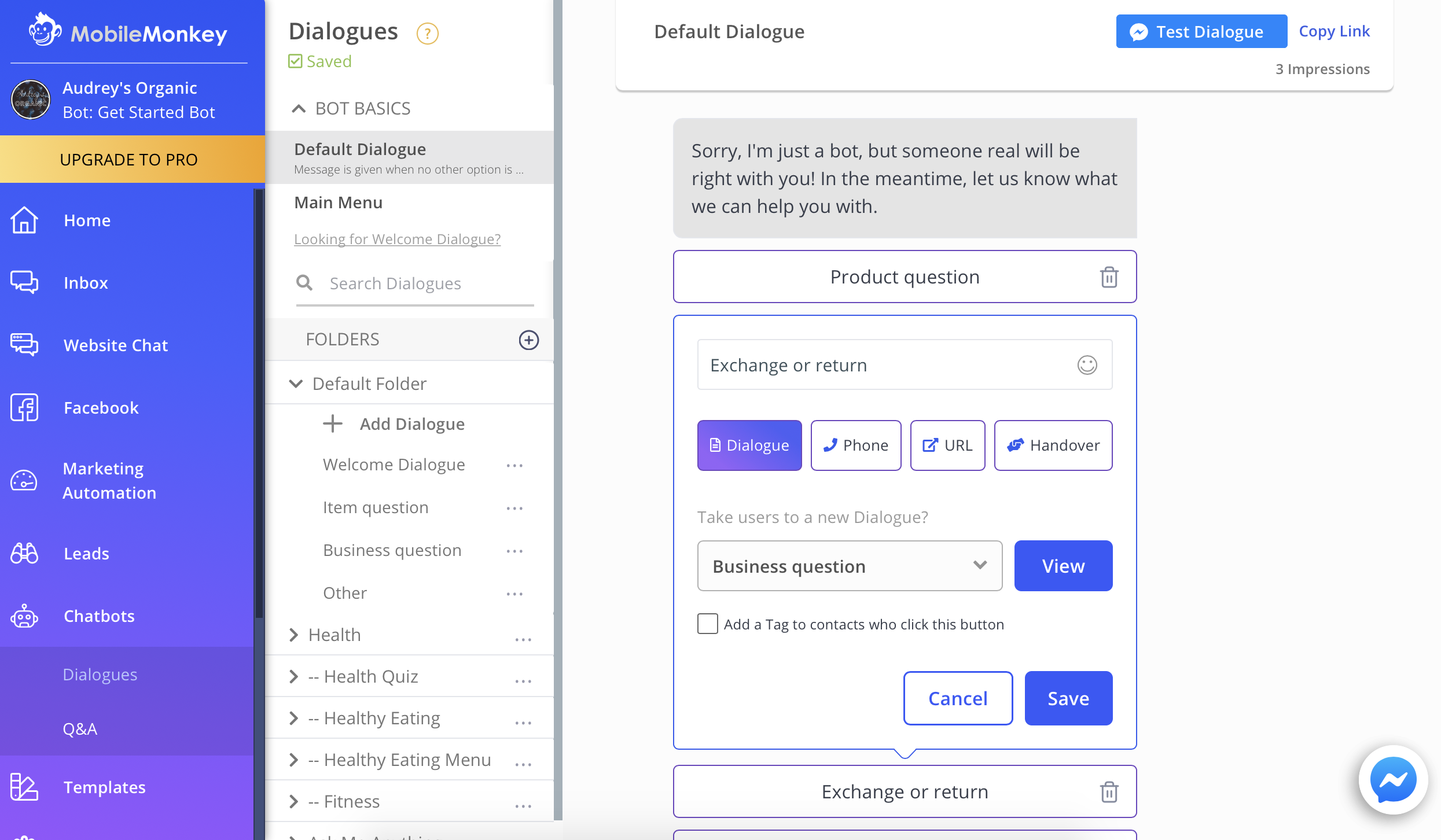 The test chatbot in the lower right hand corner was probably my favorite part of the overall workflow. No matter where I was, I could test out my chatbot and immediately make corrections and improvements.
Cons of MobileMonkey
Of course, no platform is perfect. Especially when you're looking at free options, you'll have to make some compromises.
So what are those compromises? I didn't notice any glaring issues, but two issues stuck out to me:
1. Freemium feature set
Don't get me wrong: the free version of MobileMonkey is incredible. But you're still missing out on some great features without the upgrade.
The Pro version, which costs $14.25/mo, includes features like unlimited contact leads, API connections, and Zapier integration. These are really useful if you're driving a sizable amount of business through Facebook, and they can also help you automate your processes even more. (And, of course, the Pro version removes the MobileMonkey branding.)
Probably the most noticeable limitation is the number of chatbots you can have at the same time. The free version only supports one bot at a time:

If you're a small business that doesn't need a bunch of different pipelines, this won't be an issue, but it could be if you're looking to use a few different chatbots for different use cases.
Again, there's more than enough in the free version for most businesses, but if you're looking for some more advanced technical tools, you might find the free version a bit lacking.
2. Templates
MobileMonkey offers plenty of templates to get you started if you're new to the world of chatbots. However, I preferred creating chatbots from scratch.
These templates take the form of prewritten Dialogues, some of which can be useful. That said, most of them do read like stock templates.
Even if you do use the templates, you'll want to customize them anyway. I found it easier and more direct to just do everything myself. This is more of a personal preference, though, so you might end up using the templates.
MobileMonkey Ease of Use
By now, you've probably already gotten a sense of how easy it is to use MobileMonkey. It's the easiest chatbot platform I've used, and it's ideal for beginners or just anyone curious about chatbots.
From the setup to the interface, everything about MobileMonkey was simple and straightforward. I faced no UX issues or other problems that would deter its usability.
You don't need to know how to code––heck, you don't need to know a single thing about chatbots. MobileMonkey is a great entry point that's suitable for most businesses looking to incorporate chatbots into their marketing strategies.
I had my first primitive chatbot up and running within about 20 minutes. Once I got the hang of the workflow, which didn't take long at all, I was making detailed chatbots in a flash. You can spend a lot of time tweaking things, or you can get a simple chatbot up in no time. That's another plus for its ease of use: the ability to go as deep as you need to.
Recommendations to Others Considering MobileMonkey
If you're considering a chatbot platform for your business, you're probably wondering how MobileMonkey stacks up to the competition.
Here are a few things to consider in a MobileMonkey review against other chatbot platforms:
MobileMonkey is one of the best free options. While the free version doesn't have everything, it has a lot. If you're on a shoestring budget and want to start using chatbots, MobileMonkey is probably an ideal platform. I've used other free chatbot versions that had nowhere near the power and versatility of MobileMonkey.
It's easily scalable (especially if you upgrade to Pro). If you want a chatbot solution that will grow with you, MobileMonkey is a solid option.
It's not the most technical platform. This can be either a pro or a con depending on your perspective. If you want a simple way to make chatbots, it's perfect, but you can't go in deep and code everything yourself.
If anything, you can just try out the free version and see how you like it.
MobileMonkey Review: Pricing Overview
MobileMonkey lays out its pricing tiers in plain language: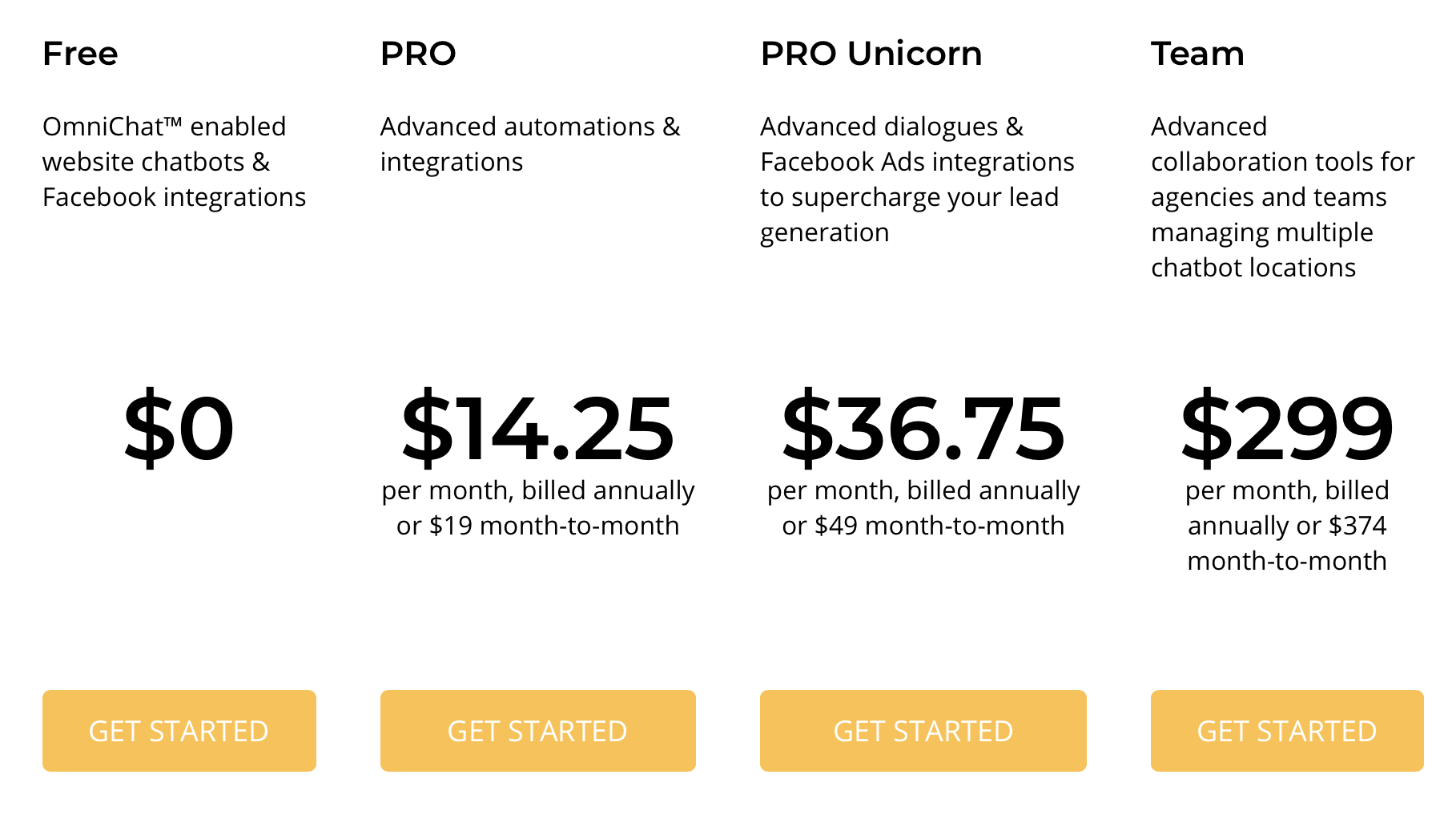 The free plan includes all of the basic features, including full-featured chatbots, Facebook integration, and drip campaigns.
The Pro is a big step up. At $14.25/mo, it gives you features like SMS availability and scheduled sending. This feature set will take your chatbot game to the next level.
There's also the Pro Unicorn plan at $36.75/mo. While it's significantly more expensive than the standard Pro plan, it also offers a lot more. You get Facebook ads integration, advanced chatbot dialogues, bot analytics, and more.
Finally, there's a team plan available for $299/mo. If you need an enterprise chatbot solution, this is the one you'll want to look at.
MobileMonkey Customer Support
If you're in need of support, MobileMonkey has you covered.
They make it super easy by including a Help tab on your dashboard: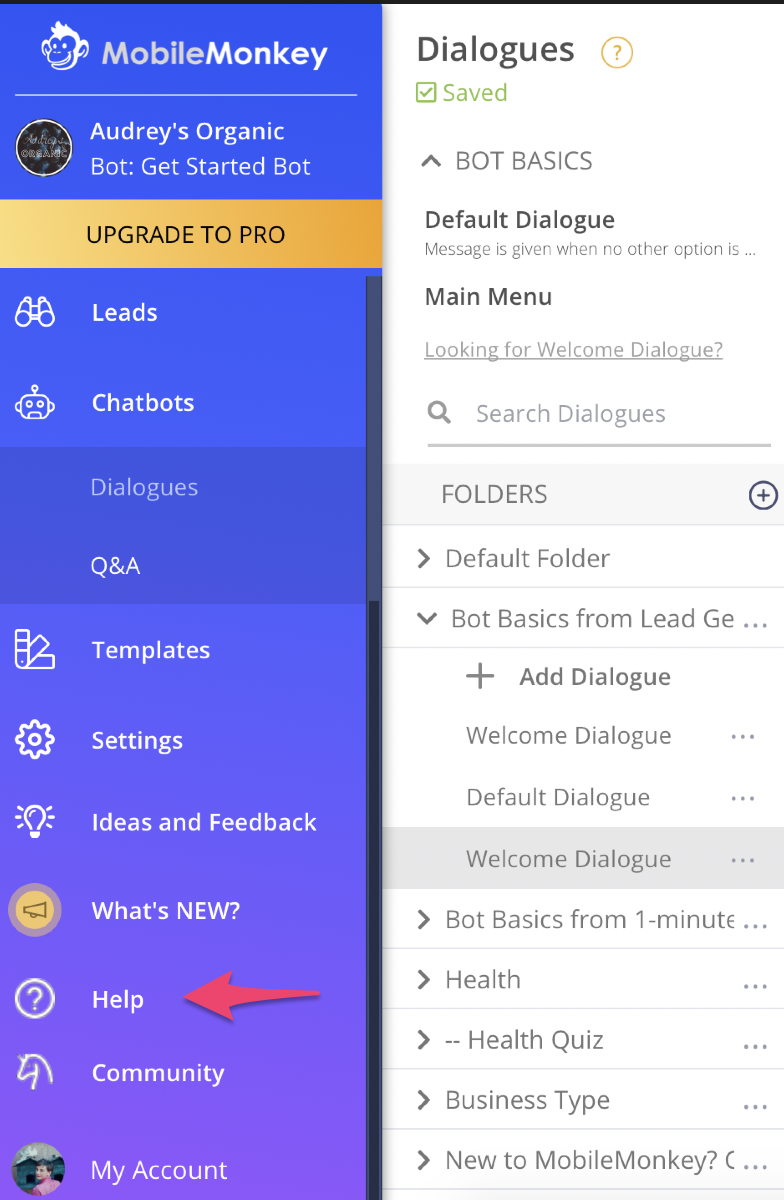 From here, you can browse the MobileMonkey knowledge base. Alternatively, you can use the Contact option to email their support team directly.

MobileMonkey Review: Final Analysis
Overall, I enjoyed using MobileMonkey. I found it easy to use and was able to build working chatbots in just minutes. It's intuitive and straightforward, and I never found myself getting lost or confused.
Like I've mentioned, it's not the most technical platform out there, and it's extremely user-friendly and forgiving to beginners. So unless you want to get really in-depth and code everything, I would highly recommend MobileMonkey for just about any business, no matter the size or industry.
Chat marketing for Facebook Messenger as well as text message marketing is huge right now, and it's only getting bigger. Chat has some of the best conversion rates of any marketing strategies. If you're not using chat-based automation, you seriously need to consider it.
And if you do end up using chatbots, MobileMonkey is a great place to start. It's the easiest method of chatbot creation for multi-channel chatbots I've ever used.