A conversational agent is a software program which interprets and responds to statements made by users in ordinary natural language. It integrates computational linguistics techniques with communication over the internet.
Typical usage
The term Conversational Agent is primarily used in an academic context by scientists and engineers working on these systems to ensure satisfactory and relevant interaction with the user. They focus on developing interactive embodied conversational agents (ECA) and improving verbal and nonverbal human-computer interaction.
Ada and Grace are two bright and bubbly Conversational Agents at the Museum of Science in Boston, as presented on the video. Designed to advance the public's awareness of, and engagement in, computer science and emerging learning technologies, these virtual guides make a visit to a museum more interesting by answering visitor questions, suggesting exhibitions and explaining the technology behind the products.


Conversational Agent Freudbot, as presented on the above picture, was constructed to determine whether a famous person application of chatbot technology could improve student-content interaction in distance education. Fifty-three students in psychology completed a study in which they chatted with Freudbot online for 10 minutes under one of two instructional sets. Afterwards, they completed a questionnaire to provide information about their experience. Results indicate that famous person applications of chatbot technology may be promising as a teaching and learning tool in distance and online education.[1]
Cassandra, which is a manifestation of the ejTalker conversation engine, can serve as an example of a conversational agent. As you can see on this video, Cassandra ejTalker coordinates all aspects of the conversation: speech recognition, speech synthesis and avatar display. It has a persistent memory of previous conversational states and data, inheritance of base behaviors and response generation variation.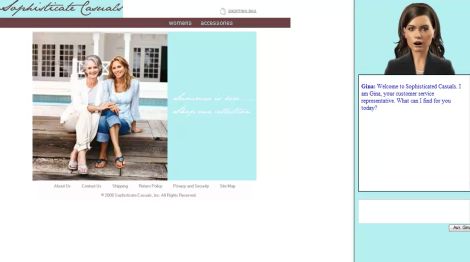 Human-Centered Computing Lab at Clemson University conducts the Conversational Agents Research. Their project aims to develop websites that are more accessible for aging users by using Conversational Agents. Their website demonstrates how conversational agents increase website accessibility, as presented on this picture.
This video represents a typical commercial Conversational Agent, available on the Sony Ericsson website, designed to present products, talk about services, and answer users' frequently asked questions.
Conversational agents, while interacting with human users, display intelligent behavior by assisting users to use the interface, asking remedial questions, and giving relevant answers. They shape the users' behavior by using alternative phrasing of utterances, engaging the user through display of embodiment and by responding to user affect through text, voice and gesture - as described in Building Conversational Agents with Basilica.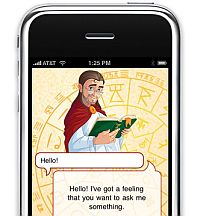 Conversational Agents are not necessarily web-based. They are also present on various platforms, such as mobile phones, personal digital assistants and other mobile devices.
Speaktoit is based on natural language interfaces, computational linguistics, and voice technologies. Their goal is to create Conversational Agents for mobile devices in order to deliver an interactive experience for the user. An example of this idea is presented on the picture.[2]
Freudbot, as presented on the picture below, is an example of a conversational agent designed to simulate the most well-known figure in psychology, Sigmund Freud. It was developed by researchers of the Centre for Psychology at Athabasca University. Freudbot was written in Artificial Intelligence Markup Language (AIML), and then linked into digital representation of Athabasca University at Second Life. Freudbot's knowledge contains two broad types of content: theoretical and autobiographical. Theoretical content consists of explanations, definitions, and descriptions of various theories and constructs. Autobiographical content consists of the biographical events associated with all stages of Freud's life.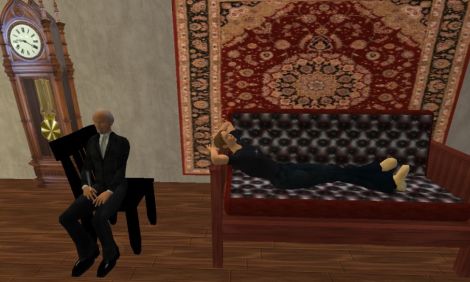 If you would like to know more about Freudbot, read the article Talking with the Freudbot in Second Life written by innovative practices journalist Tom Werner.
Background
The term Conversational Agent is a composite of two words: conversational and agent.
The word conversation signifies the exchange of thoughts, opinions, feelings and talking. It is derived from a Latin word conversationem (nominativus conversatio) meaning "act of living with".[3]
The word agent dates back to late XV century meaning "one who acts", from Latin agentem, present participle of agere - "to set in motion, drive, lead, conduct". Meaning "any natural force or substance which produces a phenomenon" was first recorded in 1570s.[4]
The term Conversational Agent was introduced in 1994, in a paper Animated Conversation: Rule-Based Generation of Facial Expression, Gesture and Spoken Intonation for Multiple Conversational Agents, written by Justine Cassell, Catherine Pelachaud and their colleagues from Center for Human Modeling and Simulation at the University of Pennsylvania.
Examples of Conversational Agents
Conversational Agent pages
Although we use chatbot as the main synonym on this website, please do not be confused. There are more than 161 synonyms in use by academics, business and conversational agent enthusiasts! It is simply a matter of reading between the lines.

Please check out our main directory with 1376 live conversational agent examples (an overview as maintained by developers themselves), our vendor listing with 253 conversational agent companies and conversational agent news section with already more than 368 articles! Our research tab contains lots of papers on conversational agents, 1,166 journals on conversational agents and 390 books on conversational agents. This research section also shows which universities are active in the conversational agent field, indicates which publishers are publishing journals on humanlike conversational AI and informs about academic events on conversational agents. Also, check out our dedicated tab for awards, contest and games related to the conversational agent field, various forums like our AI forum by conversational agent enthusiasts and add any conversational agent as created by yourself and your colleagues to our conversational agent directory. Please do not forget to register to join us in these exciting times.

A selection of pages on this website using 'conversational agent':