Chatbot channel(s): Messenger, WhatsApp, Slack, Twitter, SMS, Google, Apple
Overall rating:

Price (from $ to $$$$$):

Botsociety might sound like it's a club for robots, but it's actually a marketing chatbot platform.
Botsociety is a recent addition to the many chatbot platforms that have risen up to account for the surge in popularity chatbots have experienced.
While it's not as well-known as options like ManyChat, Botsociety is something of a hidden gem. It has a nice suite of features that are aimed at creating versatile chatbots.
So what is Botsociety all about and how can it help you? Let's take a look.
Botsociety Review: Main Features of the Chat Platform
Botsociety markets its chatbot as "conversation design," which is a neat way of looking at chatbots.
And it lives up to that claim––its chatbot builder allows you to build out entire conversations for all the main chat platforms, including Messenger, WhatsApp, Slack, and, of course, your own website.
Botsociety offers specialized tools for each platform, so you can be sure your bot will work well no matter where you place it. They even offer a Platform Converter that allows you to transfer bots across platforms.
The centerpoint of Botsociety is an incredibly intuitive visual editor. Here's what it looks like: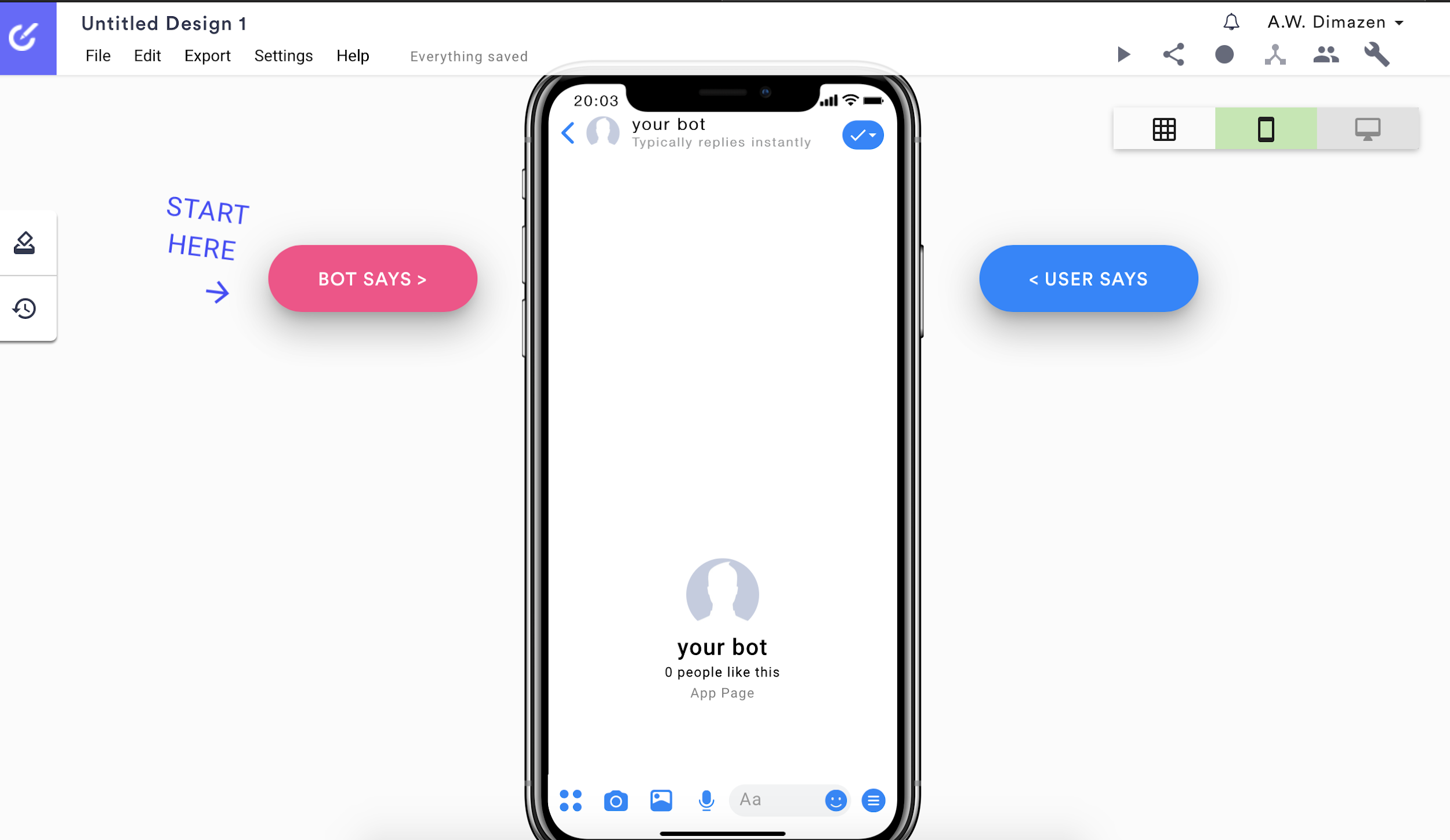 Pretty cool, right?
This visual editor is as simple as it gets. The "bot says, user says" layout is easy for everyone to pick up instantly, and it makes the process of designing bots straightforward and efficient.
It's a snap to make text responses for both the bot and the user, but you can also add media, create buttons, put together a carousel, and so much more.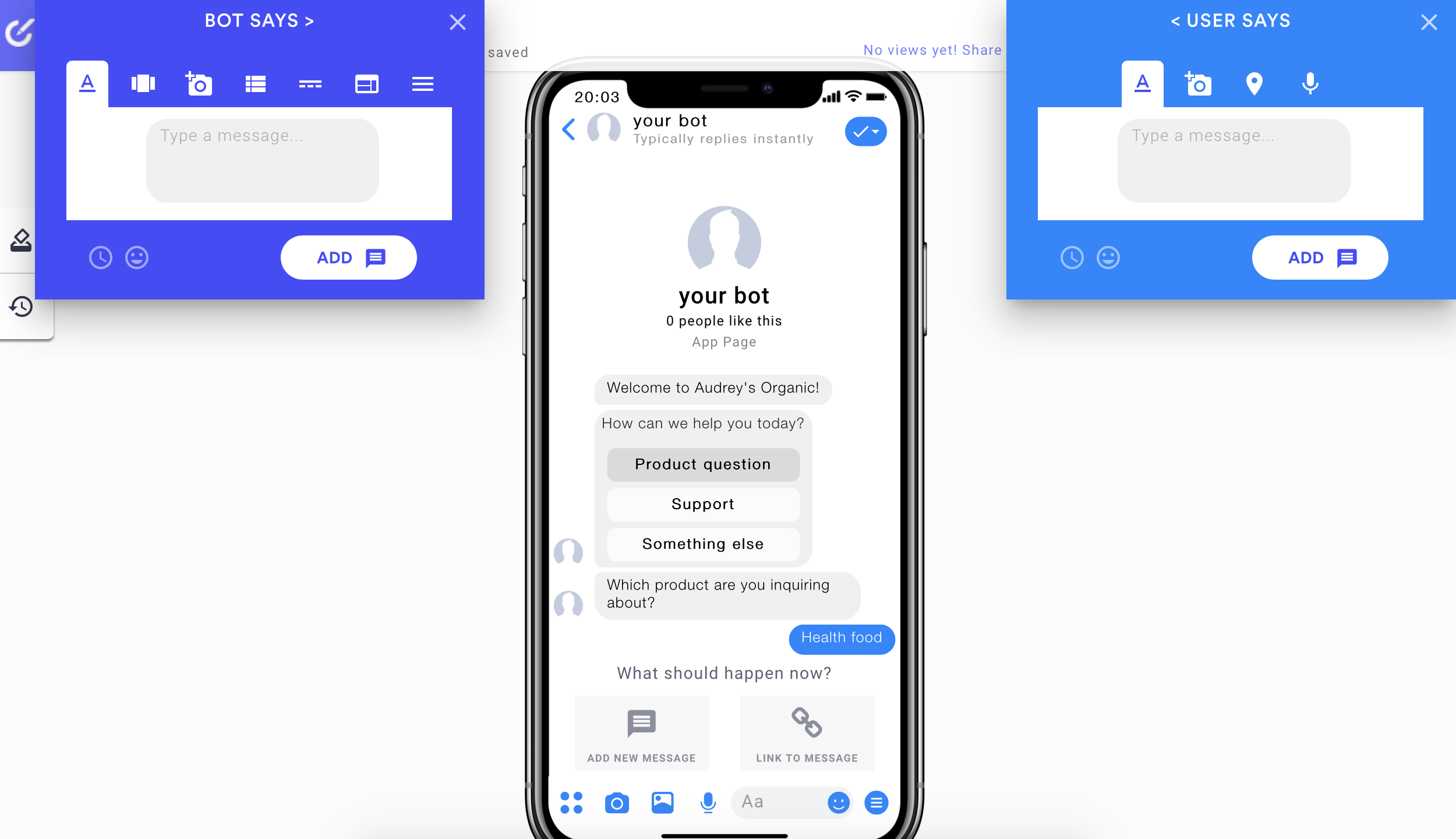 Being able to see your bot on a phone in real time is a huge plus that lets you make changes on the fly. You get the instant feedback of seeing what your bot will look like and what the conversation flow will be, and you can use that feedback to make modifications.
You can even scroll through the bot on the virtual phone just like you would with a real phone. Combine that with recognizable phone silhouettes that you can actually change in the settings, and you get a very immersive experience that really allows you to put yourself in your customer's shoes.
Okay, enough about the virtual phone––let's get back to the chatbot platform itself.
It's easy to create multiple conversation paths. Botsociety keeps them separate and makes it simple to edit each path.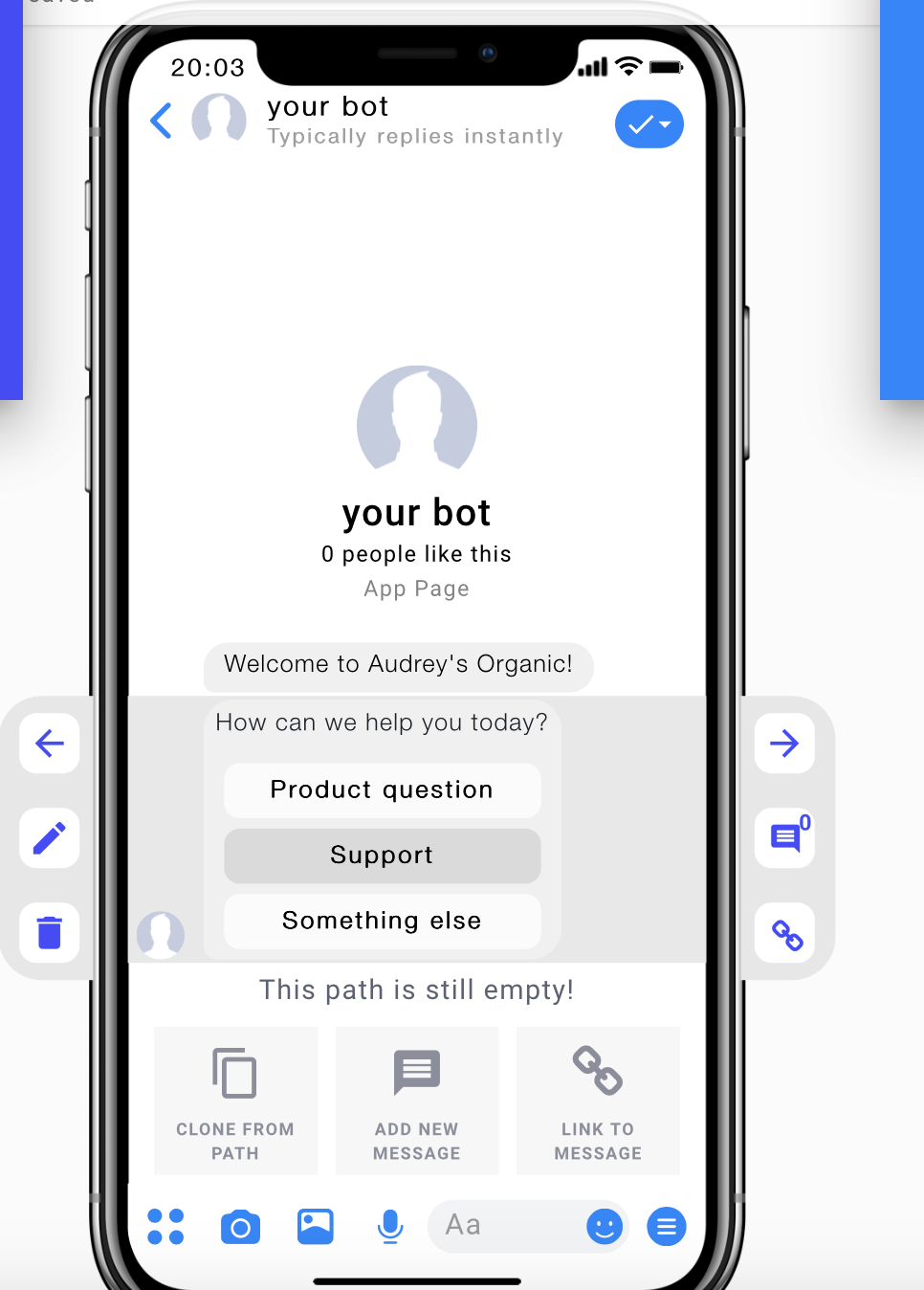 You have control over just about every element you can think of, and everything is contained right within this visual editor.
One nice feature is the ability to let the user add various types of messages. They can type a freeform response, send a photo, tag their location, or even send a voice message.
You could create entire flows around different types of messages. For instance, if someone needs support for a broken product, you could prompt the user to upload a photo of the damaged item.
A nice touch is that the editor mimics a Google Suite product, so even if you've never used a chatbot platform before, you'll probably feel at home due to the layout alone.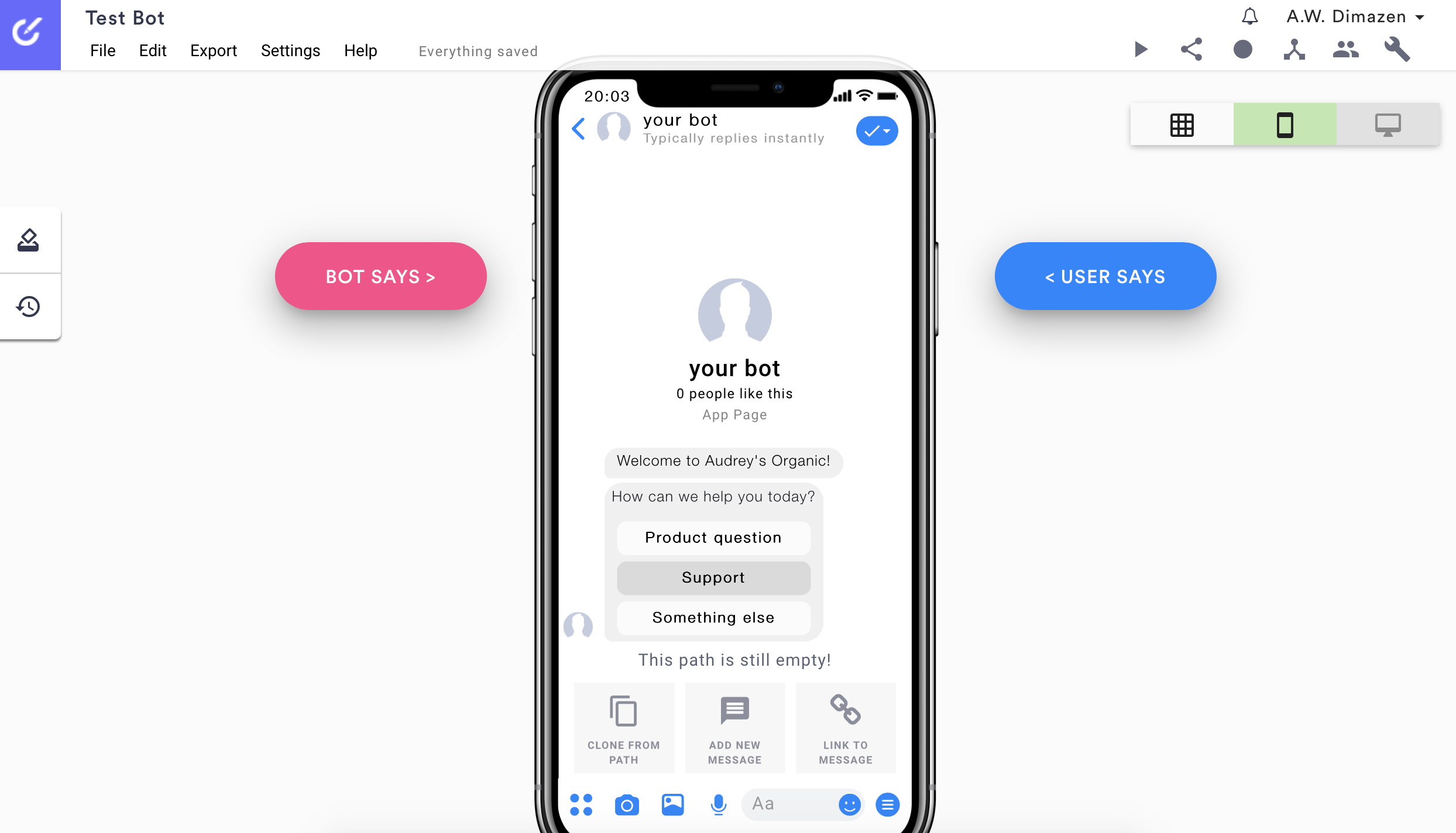 To fully test your bot, you can use the Play button: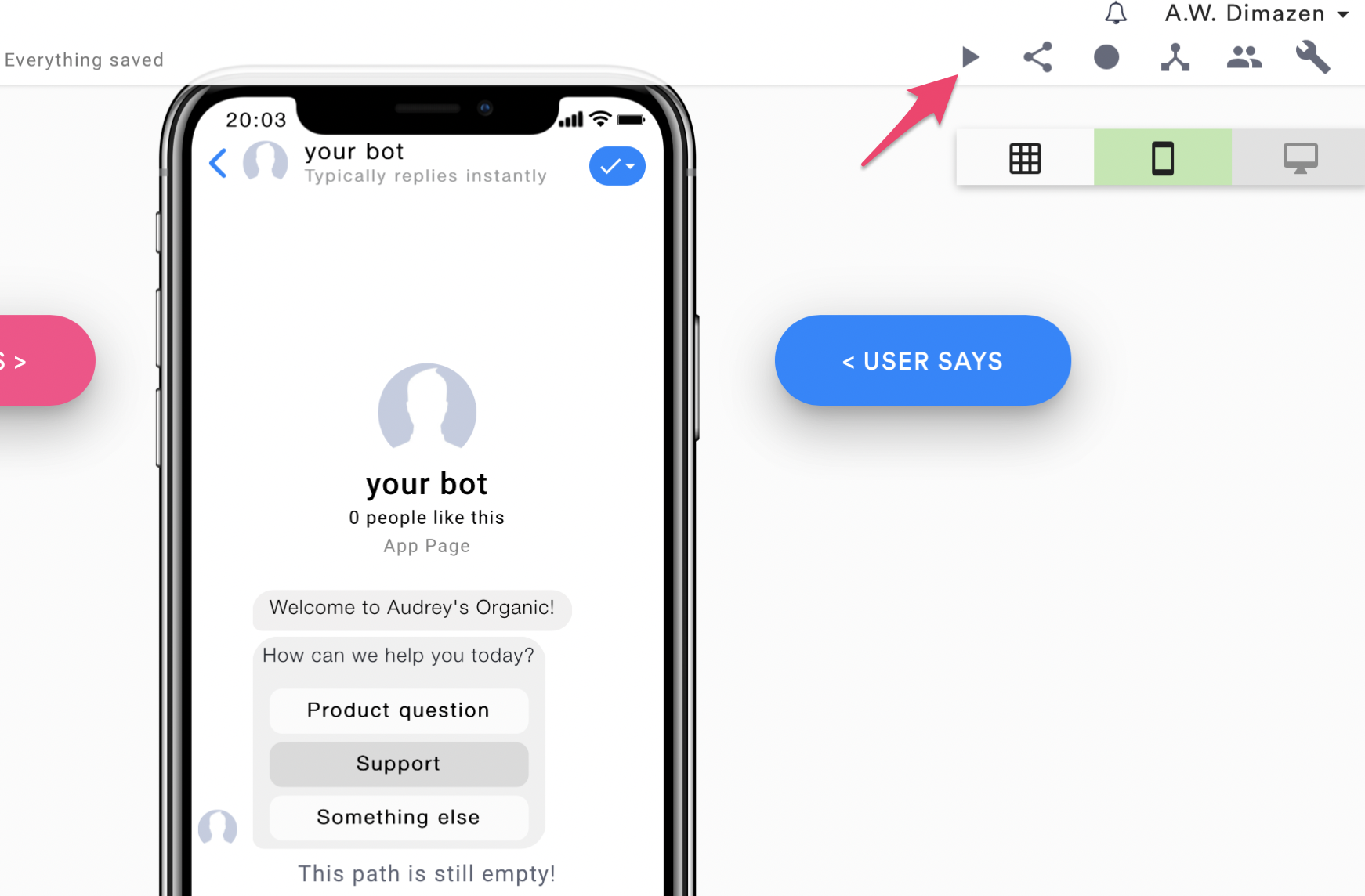 This will give you an automated run-through of your bot: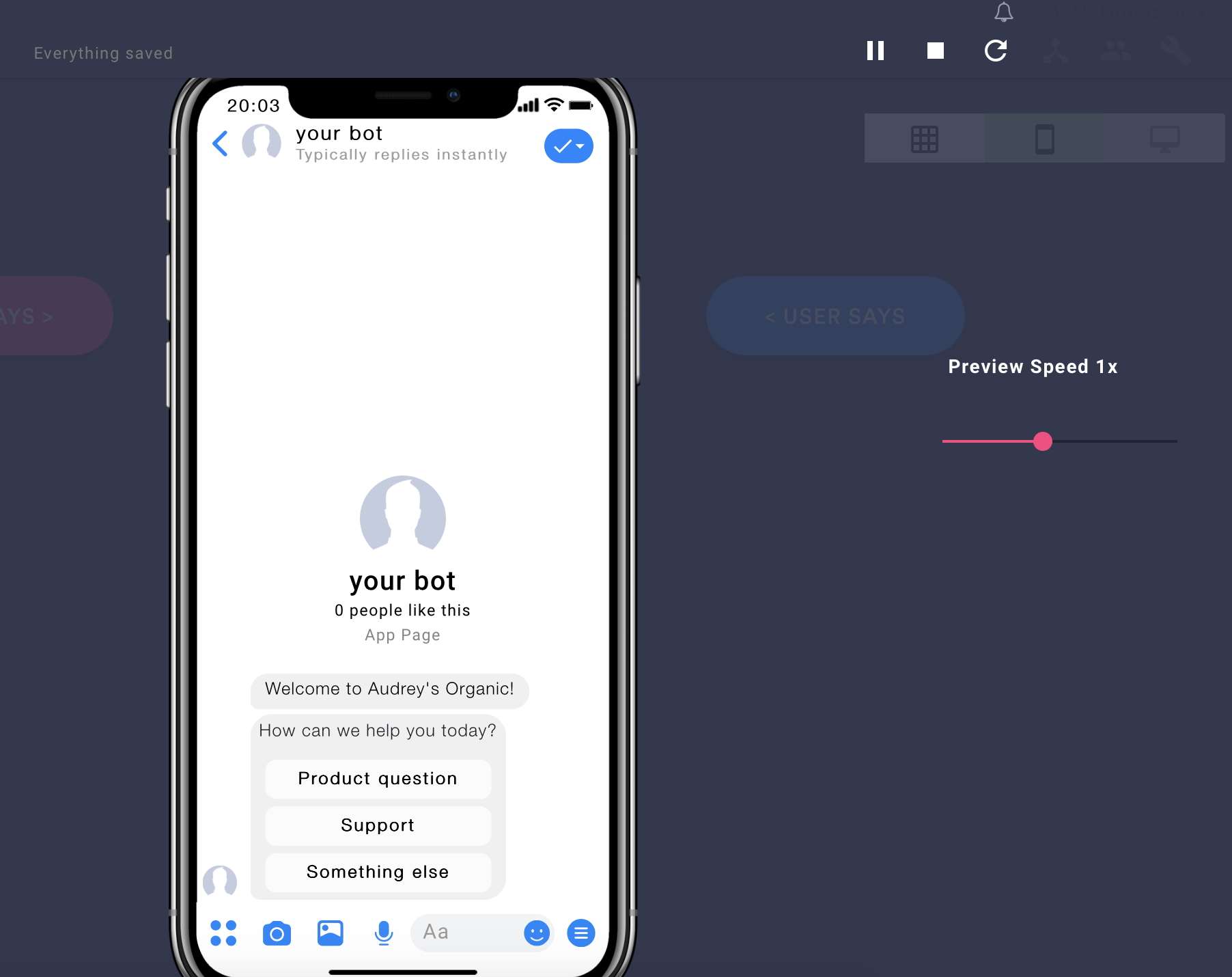 Using the slider on the right, you can adjust the preview speed to make sure the conversation flows naturally.
If you want to get an overview of your entire bot, you can use the Flowchart function: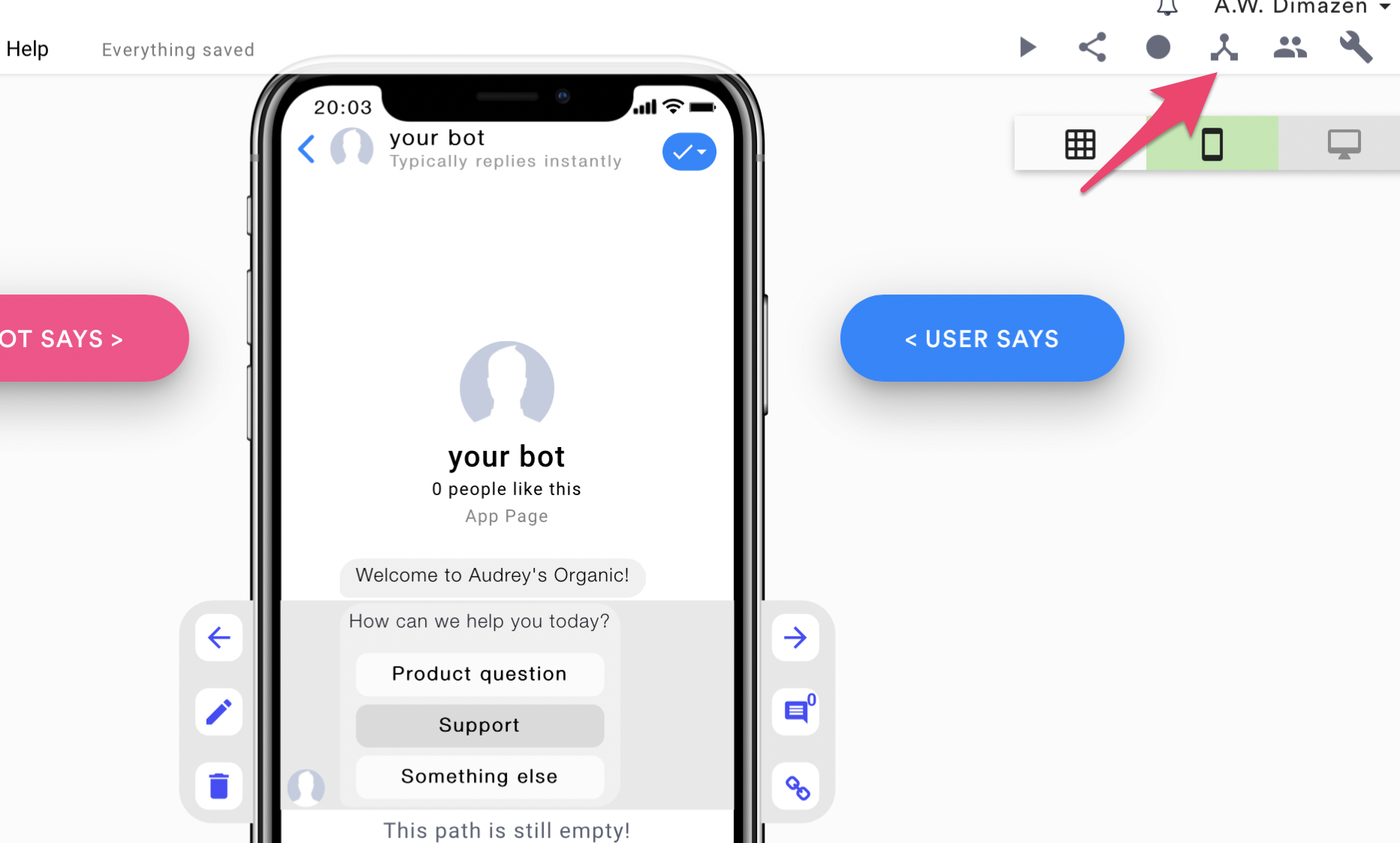 This will generate a flowchart of your bot: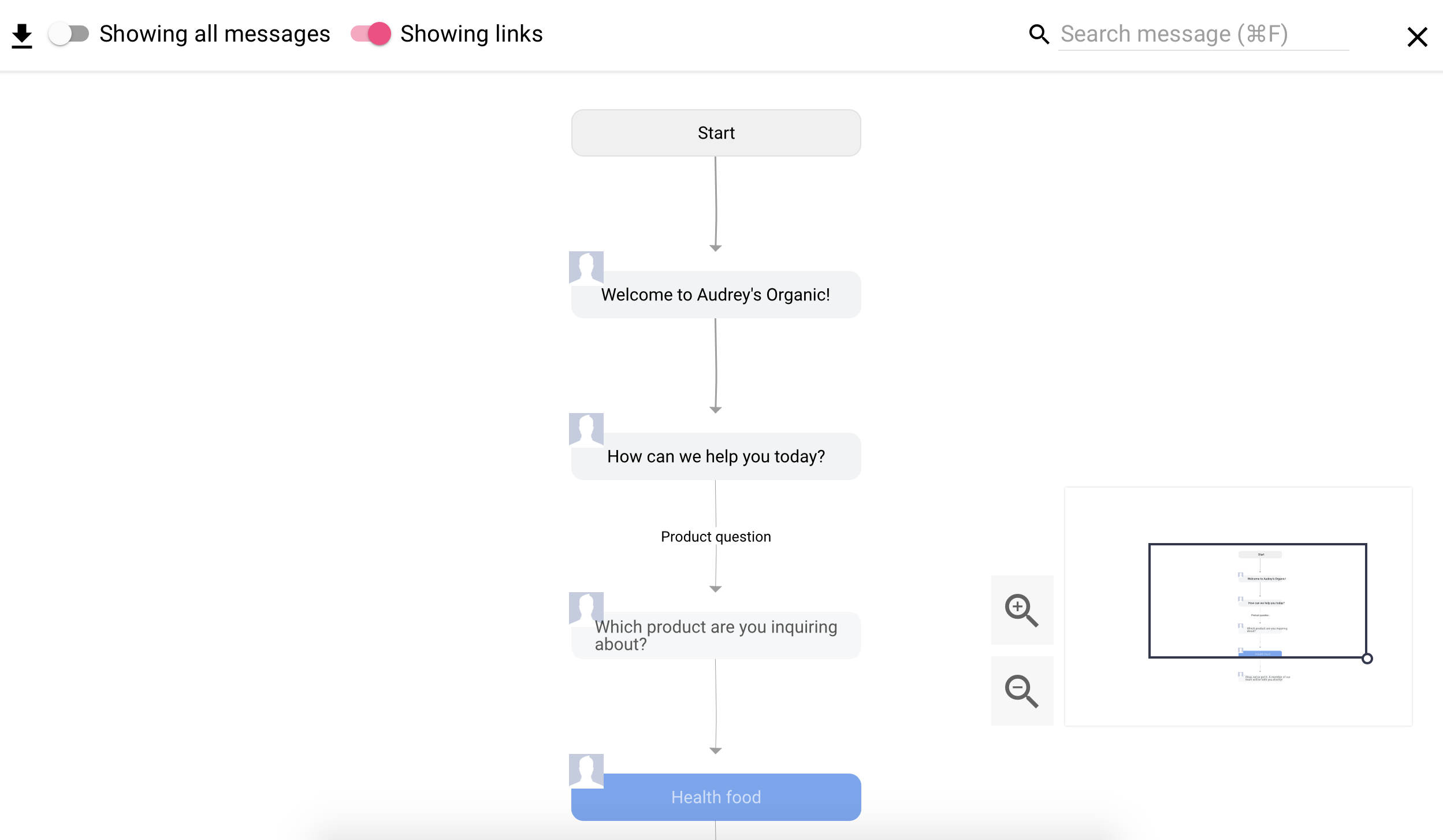 This is useful for conceptualizing the different conversational paths and considering the flow of each path.
When your chatbot is finished, you can put it together using the Build button.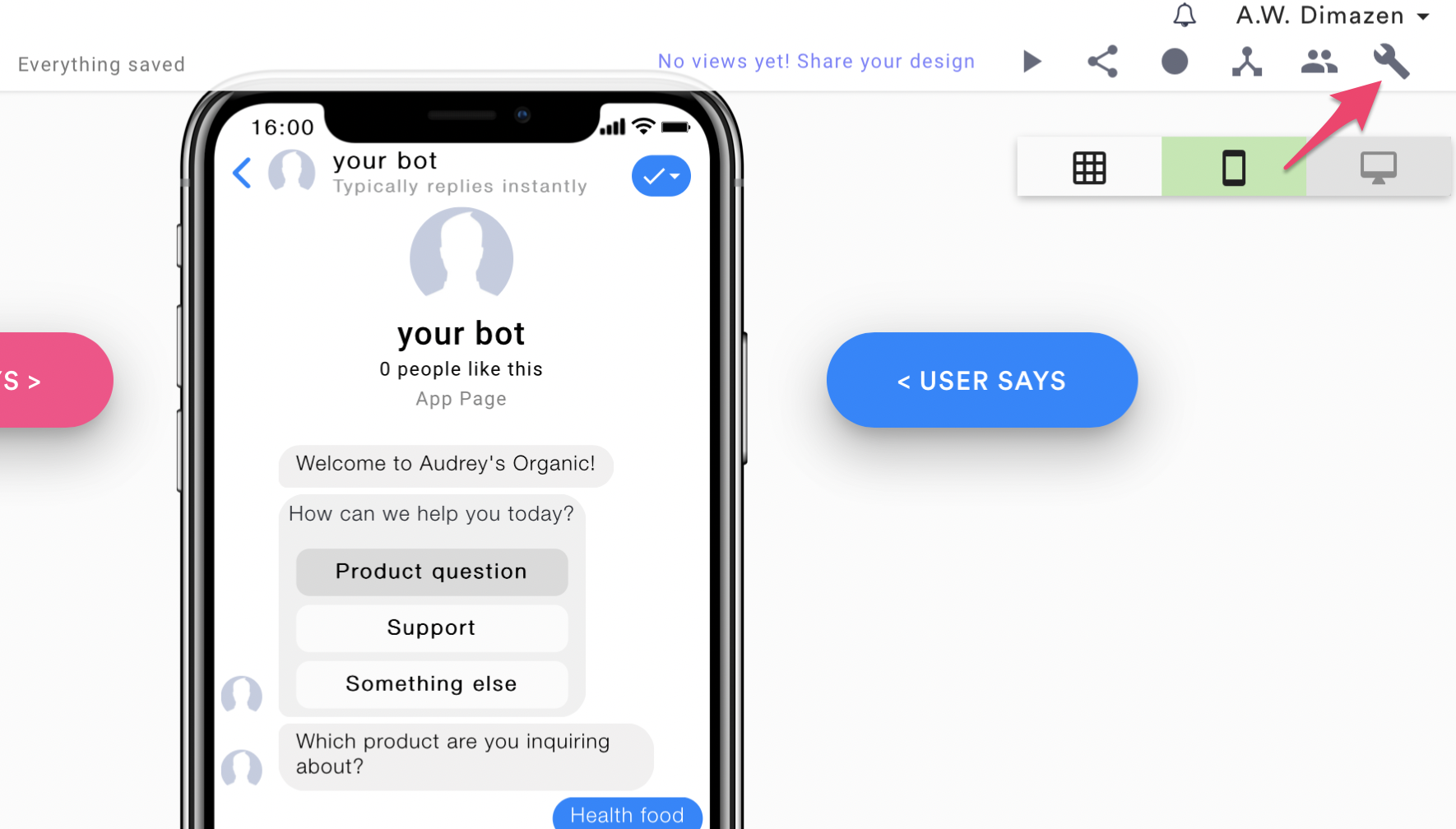 From here, you can export your bot to two bot-building programs: Dialogflow and Rasa.ai. Botsociety provides a comprehensive tutorial on how to use these programs, but basically, Botsociety acts as a prototype generator. When you connect to Dialogflow or Rasa.ai, you use that platform to finish building your bot and integrate it with the platform of your choice.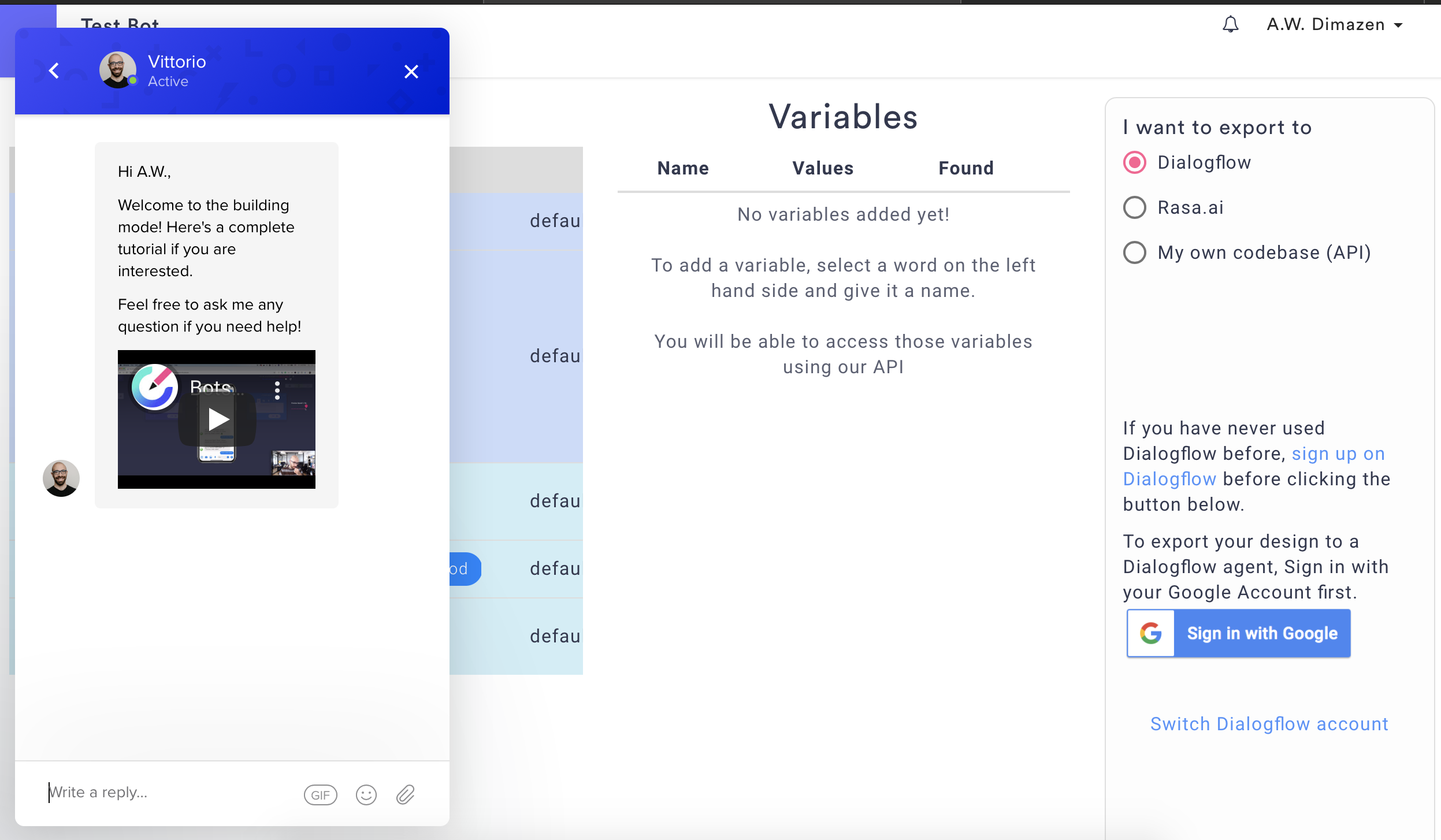 So in summary: Use Botsociety to build your bot, and connect to Dialogflow or Rasa.ai to publish your bot.
It's a pretty simple workflow, and even though Botsociety isn't an all-in-one platform, it allows you to easily build bots with precise control. Unless you know how to code, you won't get much more flexibility.
Pros of Botsociety
Botsociety is a powerful platform, and there's a lot to like here. Let's look at some of its biggest advantages.
Visual Editor
Botsociety's editor is definitely its strongest selling point. It's extremely easy to use, and it provides an approachable point of entry if you're completely new to chatbots.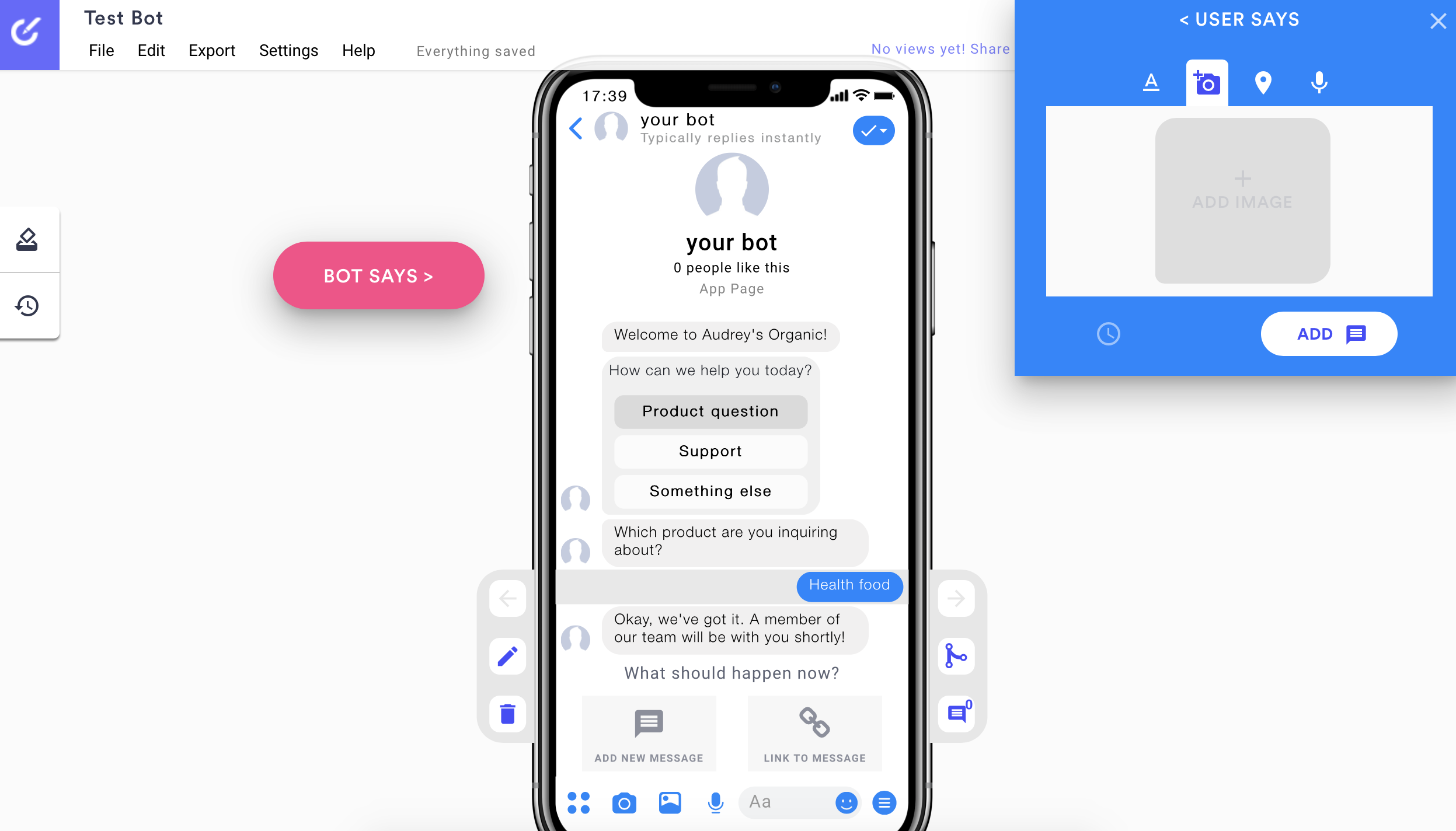 You don't even need a tutorial to get started with the Botsociety editor. I dove right in and started using it right away. While I do have previous chatbot experience, Botsociety is easy enough to use if you've never worked with chatbots before.
The virtual phone layout is also a huge help. Knowing what your bot will look like to your customers is invaluable when it comes to designing conversations that will truly help and engage your audience.
No matter what purpose you're using a bot for, you can do it pretty easily with Botsociety.
Templates
Some chatbot templates can be rather dull and generic, but Botsociety's default templates are solid, offering a wide variety.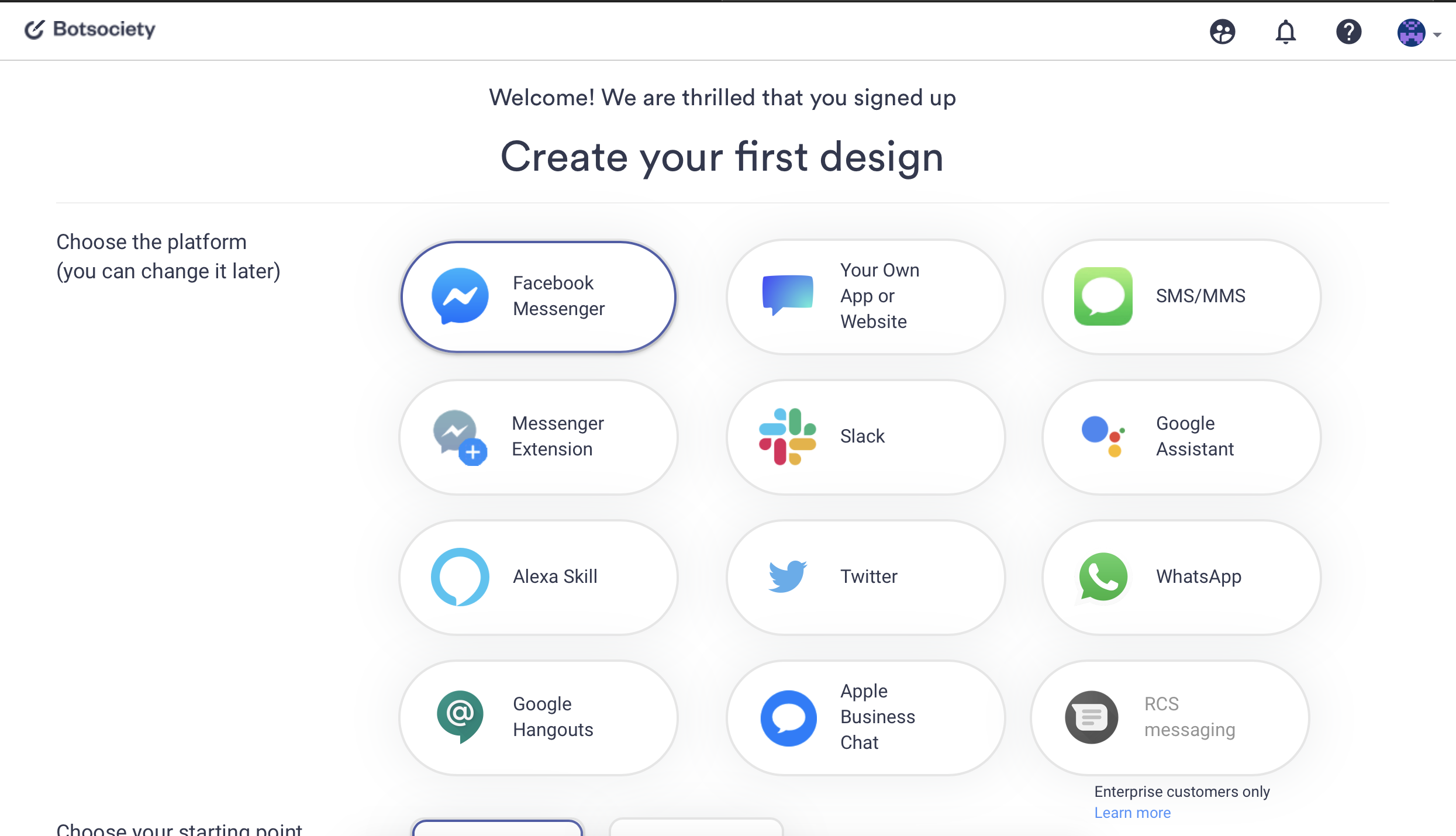 Like I mentioned earlier, Botsociety's chatbot builders are platform-specific, so if you choose the Facebook Messenger template, your chatbot will be optimized for Messenger.
And if you need to switch to another platform, you can simply transfer your bot using the Platform Converter.
Intuitiveness
Thanks to its streamlined interface and visual editor, Botsociety is a uniquely intuitive marketing chatbot platform.
Make no mistake––you can do a lot with Botsociety. But you don't need to be a tech expert to do all of it.
Like many platforms, there's no coding necessary, but Botsociety actually gives you more control over your chatbot than some of its competitors.
Botsociety's intuitiveness is definitely one of its most appealing features. and it's easy to see why. This is a great first chatbot platform, and it's also ideal if you just want a platform you don't have to spend hours learning.
Cons of Botsociety
As with all platforms, there are a few downsides to Botsociety.
Here are the cons I noticed:
Not All-In-One
Maybe the biggest drawback of Botsociety is the fact that you need to connect to another bot builder to actually publish your bot.
This trade off makes sense once you realize that Botsociety is doing the heavy lifting for you so you don't have to learn a complicated platform or even a programming language.
But all the same, there are other chatbot platforms that provide all-in-one solutions. Many of them don't offer the same amount of control, but it's definitely nice to not have to connect to an external program.
Depending on what you want out of a chatbot platform, this may not be a deal breaker, but it's something to be aware of when considering Botsociety.
Freeform Response Limitations
Botsociety allows the user to do a lot of things, from adding an image to creating a voice message, so it's surprising that it doesn't handle freeform responses well.
With many chatbot platforms, you can set the bot to look out for certain keywords like "help me" or "support." If the user's response contains a keyword on your list, then a response is automatically triggered that corresponds to that keyword.
With Botsociety, the user's responses have to be specific. Your bot has to tell the user which words they can type.
This prevents the user from writing freeform responses, which can make the conversation feel unnatural. Of course, you can mitigate this by creating a dynamic bot, but all the same, I wish Botsociety handled freeform messages better.
Botsociety Ease of Use
Overall, Botsociety is a breeze to use. Technically speaking, it's a simple interface that gives you everything you need in a user-friendly package.
I was able to jump right in and start building a bot without looking up any tutorials. Because Botsociety is so intuitive, most users will likely find it very natural to use.
When it comes to some more advanced functions, like publishing your bot using an external platform, things get a little trickier. Thankfully, Botsociety does provide helpful tutorials, but you might require a bit of trial and error here.
Nothing about Botsociety is difficult, but it gets less straightforward as you get deeper into it. Generally speaking, though, it's incredibly easy to use.
Recommendations to Others Considering Botsociety
Looking at Botsociety for your company? Here are a few things to keep in mind:
Botsociety can quickly be picked up by just about anybody, so you don't need someone who's great at coding or programming to build bots.
The free version gives you all of the necessary features, but you are limited in the number of bots you can make. (See below.)
It's not the most feature-rich chatbot platform out there, so if you want maximum control, you might find Botsociety to be lacking.
Botsociety Review: Pricing Overview
Botsociety offers three pricing levels: free, professional, and enterprise.
The free plan doesn't skimp on any features, which is nice. Instead, it limits the amount of bots you can create. You can only have 2 designs, 30 messages per design, and 1 export.
The professional plan is $79/mo per user and provides unlimited designs, messages, and exports. If you're looking at making several bots across different platforms, this is the plan you want to look at.
The enterprise plan offers a lot more: dedicated support, SSO & custom domain, and custom integrations.
The jump between free and professional is quite large in terms of price, so that's also something to think about if you're considering Botsociety for your chatbot solutions.
Botsociety Customer Support
Botsociety offers support through a live chat that's accessible from your dashboard.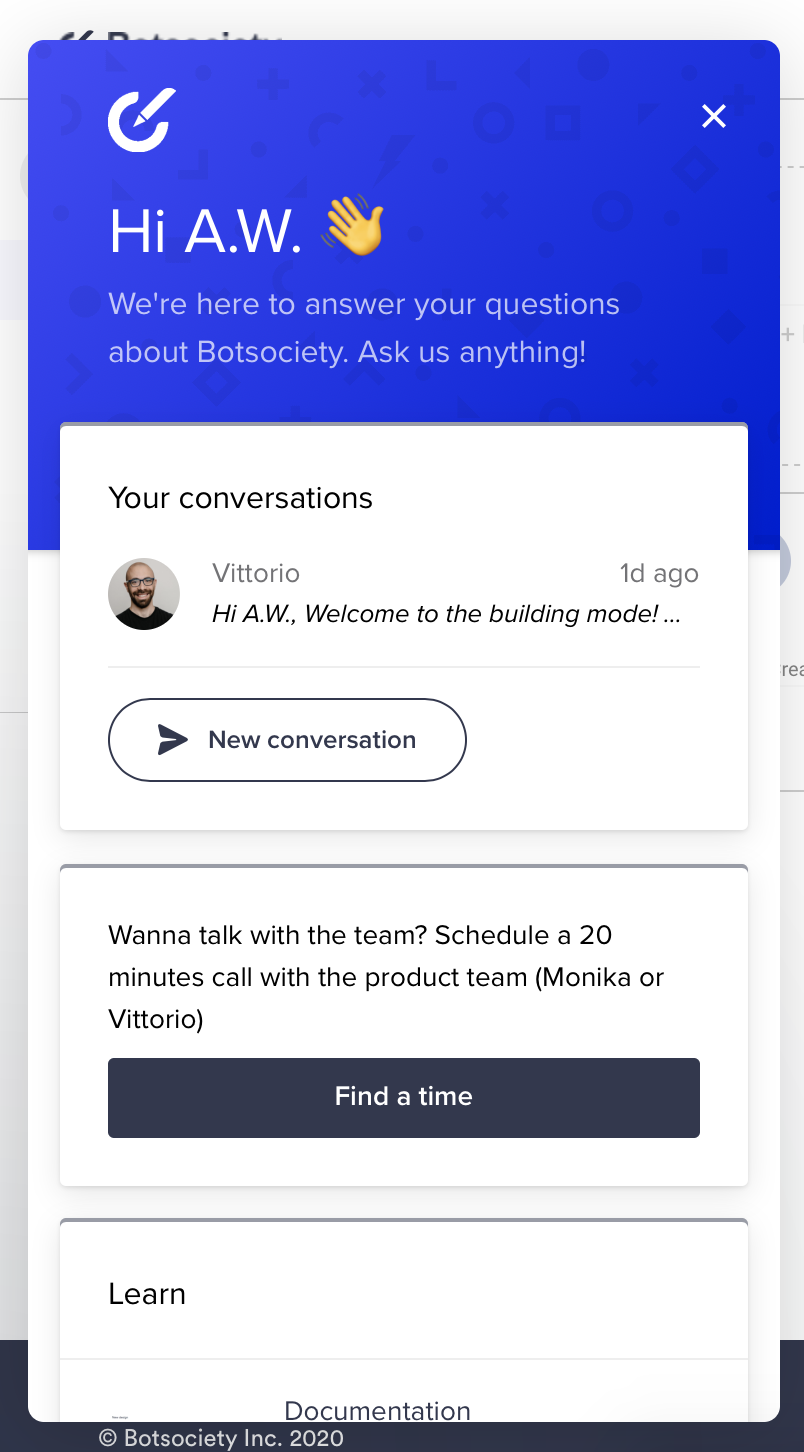 You can also schedule a call with Botsociety's product team.
However, these two options seem to be all the support that Botsociety offers to most of their users. Enterprise users receive dedicated support, but it seems that both free and professional members only have the two options above in terms of support.
They provide an email for general inquiries, but there's no dedicated support email. However, they claim they usually respond to chat support inquiries within a few hours.
Frequently Asked Questions
What are the differences between Botsociety and Dialogflow?
Botsociety is a chatbot prototype tool that allows you to easily create a chatbot without any technical knowledge. Dialogflow is a separate bot builder that you can use to export and publish the bot you made on Botsociety.
Is Botsociety free?
Botsociety does offer a free plan. See the pricing section above for full details on the differences between the free, professional, and enterprise plans.
Is there a Botsociety tutorial?
Botsociety provides tutorials on its blog. The tutorials cover a fair amount of ground, from getting started to social media integrations. There's also a community forum where users can ask questions about the platform and discuss techniques.
Botsociety Review: Final Analysis
Botsociety does a lot of things really well and wraps up everything into a nice package. It's one of the easier platforms to learn on, and it offers a lot of control.
Despite not being an all-in-one platform and having some limitations, it's generally a great platform that provides a large amount of functionality that will be suitable for the majority of use cases.
For the most part, I enjoyed using it, and it's certainly one of the more visually appealing chatbot platforms I've used. Between the direct interface and the real-time virtual phone display, I found Botsociety enjoyable to use.
The bottom line: If you want an easy way to quickly build bots without having to spend any time learning, Botsociety is a formidable choice.
Has your interest been piqued? If so, head over to Botsociety and give it a try.