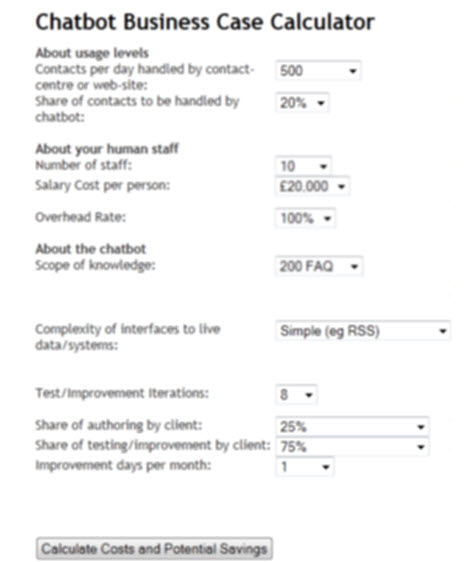 An innovative business case calculator has been created by technology company Daden Limited to help organisations understand the potential savings that using an interactive virtual agent – or chatbot - can deliver.

Chatbots are computer applications that can act as a first line of support providing instant responses to questions, without the need for staff intervention, reducing pressure on resources. Available 24 hours a day, seven days a week they can also collect information, provide links to pages and answer queries using natural language conversation, whilst allowing human staff to focus on more complex queries.

Research has shown that the average cost-per-contact using a chatbot is under 60p, compared to over £3.50 for live text-chat or over £4 for a telephone contact – almost 84% reduction in costs. But clients often want to know what the actual benefits and savings would be for their own business.
David Burden, Daden's MD said "We developed the calculator to let businesses rapidly see what the costs would be for a chatbot within their business, and what the potential savings would be by diverting calls that would otherwise be handled by the contact centre – whether as voice calls or live chat."
The chatbot business case calculator allows users to enter a number of different parameters about their business and the chatbot, from the number of staff currently handling enquiries and the number of FAQ's to be handled, to the amount of authoring and testing the client wishes to undertake themselves. The calculator also captures the level of integration needed into back-end systems, so that the chatbot can provide answers from existing sources such as RSS feeds, web services or corporate applications and databases.
David ends "With organisations such as CCM Benchmark predicting that "virtual agent implementations will be "a critical component in customer services and even the main point of contact in 2014" our aim is to help companies use virtual agents to improve their services and reduce their costs. We believe that the chatbot business calculator will help companies to quickly work out not only the typical costs involved in a chatbot project but also see the potential savings that can result within their organisation."
The Chatbot Business Case Calculator can be accessed at: http://www.daden.co.uk/pages/chatbot_business_case_calculat.html