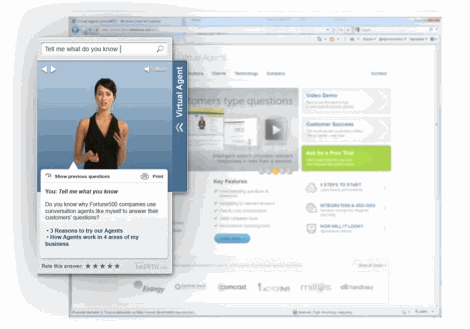 InteliWISE, a leading provider of Virtual Agent solutions for customer support and e-commerce sales support, announces its launch of an intelligent Tab Widget with its virtual chat agent.
The Inteliwise Tab Widget is a simple Tab that can be added to the side of any website. When inactive, it is non-intrusive, but it follows consumers or shoppers as they navigate through the site. When clicked, it slides open, to reveal an interactive window, with the Virtual Agent - intelligent search box and lively avatar character. Consumers may type their question in their own words, and Virtual Agent guides them step - by - step in a friendly chat form, until the problem is resolved.
By its presence in the side tab, InteliWISE Virtual Experts becomes a friendly and non-invasive, 24/7 customer service agent offering visitors personalized service and at a shopper's disposal at any time. The welcome message and script of the Virtual Agent can be customized page by page. That way, this customer service solution works like an intelligent Virtual Expert, helping to resolve customer problems with an artificial intelligence system that can interpret their questions, even when they are phrased in everyday, non-formal language and either offer the appropriate response from a pre-set data base, or connect the user to a web link or a live person to get the information they need.
Users have access to an intuitive tool that helps them to formulate their problem in their own words and get immediate help from a virtual assistant that is 'always on duty'. Implementation of this Tab Widget with customer support assistant can enhance the internal search engine and/or the FAQ section on your website, or replace them completely. InteliWISE provides full reporting on both the use of the Tab (number of clicks, questions, etc.) and also a full transcript of all chats between shoppers and the virtual chat assistant.
The Tab widget, offered by InteliWISE, extends the use of current Virtual Experts, as companies now may add this non-intrusive tab to any of their web pages, without any modifications in the site design.