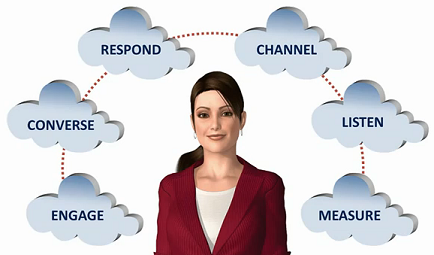 VirtuOz, Inc., the leading provider of IVAs for online marketing, sales, and support, today announced the availability of VirtuOz' IVAs for Facebook Messages. With this latest release, VirtuOz now offers enterprises the most contextually aware virtual agent solution that can deliver a consistent, cross-channel customer experience as consumers move from social to mobile to Web.
"To effectively serve today's always on consumer, a virtual agent must be capable of providing a consistent, personalized concierge service across every interaction in a customer's journey to find a resolution," said Pamela Kostka, chief marketing officer of VirtuOz. "Whether the customer first engages with a business via Facebook on a laptop computer, then moves to their mobile phone or tablet and then to the company's Website, the goal is to provide a consistent and contextually relevant experience that ultimately results in a satisfied customer."
About VirtuOz IVAs for Facebook Messages
Managing the sheer volume of communication streaming through social networks is a growing business challenge. Nearly one quarter of existing businesses offer customer support via Facebook, but most are still working toward an effective strategy to answer customers quickly, with only 5 percent of Facebook posts/messages getting a response at all. The result is a growing divide between customer expectations for a response to their post/message in less than 30 minutes, and a business' ability to respond.
Rising to this challenge and building on VirtuOz' IVAs for Facebook introduced earlier this year, VirtuOz IVAs for Facebook Messages delivers the optimal way to quickly and accurately respond to consumer messages sent via Facebook by either resolving the issue on the spot or navigating the customer to a live support channel.
"VirtuOz' IVAs for Facebook Messages provides an immediate, personal, engaging response to a customer's private message sent on Facebook, while balancing the intensive, manual effort inherent in social media. It's the best of both worlds for the Web-savvy, social network consumer as well as businesses committed to meeting their progressive customers' needs," added Kostka.
Acting as a point of first contact on a business' Facebook page, VirtuOz IVAs for Facebook Messages enables companies to:
• Deliver a positive brand experience that meets customer expectations by quickly responding (in seconds or minutes) to common inquiries sent via Facebook messages
• Identify difficult or unique inquiries, and navigate the consumer to the appropriate functional department (sales, marketing or support) via their preferred communication method (mobile device, Website or social network) for an engaging customer experience that effectively resolves customer issues
• Balance staffing requirements to answer Facebook messages without sacrificing the customer experience
• Provide customers with a consistent, compelling experience across multiple channels as they traverse from social to mobile to Web
• Leverage existing technology investments, while providing customers with an always available, new online engagement channel that provides a superior engagement experience
Availability
VirtuOz' IVAs for Facebook Messages is available now. Pricing is an annual subscription based on conversation usage and a one-time set up fee.