Online shoppers are easily overwhelmed by the large number of products, arcane technical specifications, and conflicting reviews. This is especially true for people buying a new computer. A New York-based startup SalesClark LLC wants to reduce shoppers' information overload during this holiday season by employing a virtual shopping assistant.

SalesClark is a virtual assistant that chats with online shoppers in order to quickly find the best and cheapest fit for their needs. At www.salesclark.com, you can describe in plain English what you are looking for. For example, you can type "I need a small laptop good for traveling, writing, and checking e-mails."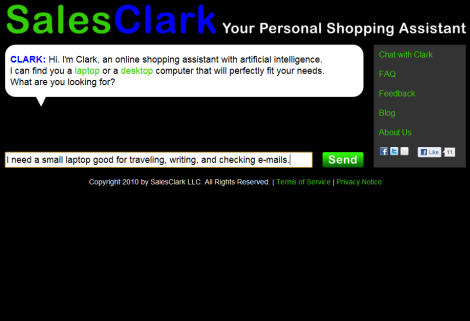 Like a human sales clerk, SalesClark will ask you few additional questions, for example how much money you want to spend: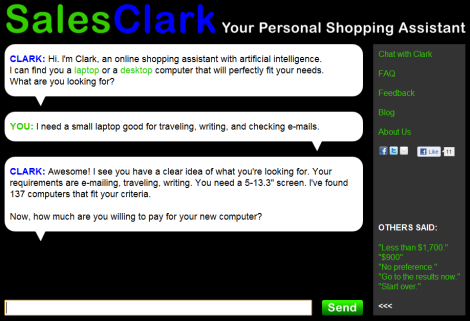 After a brief chat, he will recommend a computer that best fits your needs and budget: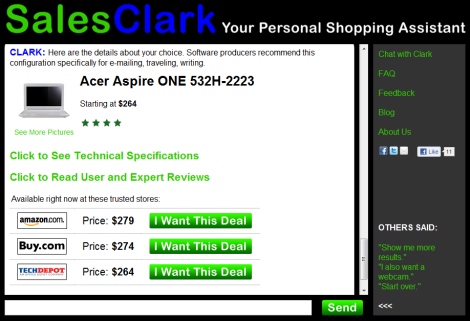 According to a review published at KillerStartups.com, chatting with SalesClark "feels like talking one-to-one with a really knowledgeable salesperson." Users also often appreciate that the virtual assistant searches more online stores for the best price and does not try to push more expensive products that a customer does not really need. Another advantage over sales clerks in brick-and-mortar stores is that SalesClark remembers the technical specifications and reviews for thousands of products.
The current beta version is available as a free web application. It only helps find laptops and desktop computers, but SalesClark's development team plans to add more consumer electronics products, such as tablets and cell phones.
Initial reactions from around the web are mostly positive. For example, ProgrammableWeb called SalesClark "a tool that you can sit your mom down with and help her find a computer." What do you think? Can SalesClark really help people choose a new computer?
Related Chatbot:
SalesClark