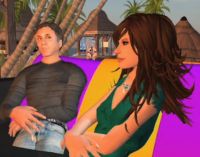 Beginning from Friday, 6th May 2011, Warsaw hosts eight edition of a documentary film festival named Planete Doc Film Festival. I participate in it intensively - I bought tickets for 10 movies! On Saturday I have seen the movie: Life 2.0., and I am very impressed by this film and its story. It is about people that live their everyday life into a virtual online world Second Life.
Second Life inhabitants constitute virtual humans in the form of avatars, which are digital alter egos that represent the appearance of users. Within this three-dimensional reality hundreds of thousands of people immerse themselves every day to lead their cyberspace life. Their interactive avatars make new friends, fall in love or run a virtual business (earning virtual money convertible into US dollars!).
I didn't know that this virtual world so drastically transformed so many real lives. It is extremely interesting in context of our Virtual Human researches, virtual world simulations and graphic design possibilities. If we are not able to harmonically manage our needs and desires, the lines between reality and "virtual" reality can easily be blurred.
Have you seen the film? Here is the official trailer:
The film is directed by Jason Spingarn-Koff, and it was premiered at the 2010 Sundance Film Festival, the largest independent cinema festival in the United States.