VirtuOz, Inc., the leading provider of intelligent virtual agents (intelligent virtual agents) for online marketing, sales, and support, today announced that Kaspersky Lab, a leading developer of secure content and threat management solutions, has extended the mission of Lena, its VirtuOz IVA, to online sales. By integrating Lena into its online retail operation, Kaspersky Lab can now provide personalized sales assistance to customers 24/7.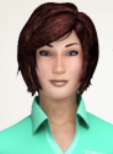 Originally implemented for customer support, Lena's presence has delivered an 85 percent average customer support resolution rate, and decreased call center inquires and emails by 22 percent. Capitalizing on this success, Kaspersky Lab extended Lena's capabilities into its online retail function, where she will assist customers with product selection.
"In just a few months, Lena has exceeded our sales support expectations," said Michael Neumeyer, director of online operations of Kaspersky Lab Europe. "Lena's ability to provide personalized assistance in the product selection and purchasing process has resulted in an 80 percent sales support success rate."
Expanding Lena into Kaspersky Lab's sales operations enables her to provide a broader scope of services to customers. By deploying her across sales and support and integrating her with the existing customer database, Lena can identify each client's individual needs based on their profile. Using this information, she can also offer customized technical support and solutions throughout the ordering and payment process, resulting in an engaging, fast, and successful interaction that improves customer loyalty, satisfaction and sales.
Lena's expansion corresponds with recent research stating that "The traditional view of customer service is blurring into all areas of the customer life cycle. Savvy eBusiness leaders recognize the growing alignment of service, sales, marketing, and brand to engage customers in an unfractured customer conversation," (Source: Forrester, "The Metamorphosis to Agile Customer Service," August 23, 2011).
Kaspersky Lab has additional plans to extend Lena's capabilities into the customer upgrade center to facilitate licensing and renewals.
Related Chatbot:
Lena