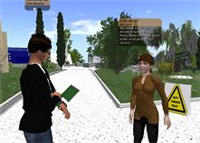 Virtual worlds and AI specialists Daden Limited have a global reputation for innovation in virtual worlds such as Second Life and develop virtual world and chatbot/AI solutions for enterprise users, particular in support of education/training, building and data visualisation and collaboration. They are currently recruiting for 4 permanent roles, all based at their offices in Birmingham UK. Details below.
3D Builder/Scripter - 2010/001, £20k - £28k
Building and scripting in Second Life and other virtual worlds
3D Studio Max or similar 3D modelling experience useful but not essential
Game engine experience (eg Unity, Unreal) useful but not essential
Poser or similar avatar modelling experience useful but not essential
Able to work from AutoCad drawings
Good creativity when needed
Programmer/IT Operations - 2010/002, £20k - £28k
Proficient in either C# or Perl, and able to rapidly learn the other
Familiarity with PHP, Python, Java, C++ useful
Able to set up and manage Linux/Apache/MySQL environments
Must be able to write both client and server side of web services (REST, RPC-XML, SOAP)
Good familiarity with XML and ideally XSLT.
Able to implement a robust version control and test regime
Able to set up servers running virtual world applications (eg OpenSim), fault find and fix on them, and ideally customise open-source code (eg OpenSim, SL client)
Able to manage routine office IT systems, servers, networks, hardware and software
Training/Business Analyst - 2010/003, £20k - £28k
Able to work with clients to turn their requirements into clear specifications
Able to take training requirements and author the required exercises within the PIVOTE open-source training authoring system (web based interface - training given!)
Able to take virtual character/AI requirements and author the required characters within the our Discourse chatbot system (web based interface - training given!)
Able to develop and manage system testing exercises
Able to contribute to documentation and white papers
Production Assistant - 2010/004, £15k - £22k
Provide routine support in the office - phone answering, info@ email handling etc
Ensure that our virtual office is kept fresh and visitors welcomed - including maintenance of our automated receptionists
Support the Client Director in marketing activities, including web-site, newsletter, campaigns, events
Help manage the financial administration of the business - sending invoices, work orders, logging invoices in, handling expenses etc
Contribute according to skills/aptitude/ambition in building/scripting/analysis/authoring as above
More information on these roles are at http://www.daden.co.uk/pages/employment_at_daden.html. Contact [email protected] quoting the job reference and enclosing a CV if interested. No agencies.
Visit the web site at www.daden.co.uk