To date National Rail Enquires has answered over 43,000 Facebook questions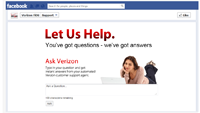 Studies show that only 40% of companies currently use social media to engage with customers, while the rest rely on traditional call centres. To help companies add vigour to their customer experience strategy, Creative Virtual is rolling out V-Person Social Media to merge the interactive power of social media and virtual assistant technology to improve customer retention and reduce support costs. National Rail Enquires is currently using V-Person Social Media to maximise customer engagement on its Facebook page with Ask Lisa virtual assistant who has answered over 43,000 questions in less than a year. In addition, Verizon has also incorporated V-Person Social Media into its Facebook page to answer questions on FIOS TV and incorporated answers from the community in to its virtual assistant.
"We have been utilising virtual assistant technology since 2007 to meet our customer support goals and provide an improved customer experience," said Kathryn Daniels, Information Development Manager at National Rail Enquiries. The rail organisation has worked with Creative Virtual, and partner The Virtual Zone, to implement its virtual assistant 'Ask Lisa' across multiple channels, including direct integration with the company's Facebook to increase customer engagement.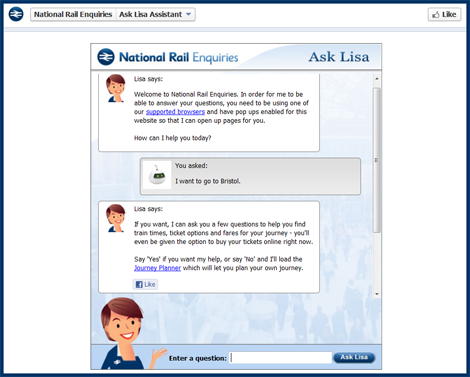 V-Person Social Media employs the most advanced natural language and knowledge management technologies to deliver personalised, self-service social experiences to customers on Facebook, Twitter or any social media network. Virtual assistants can interact with fans and followers seeking 24/7 answers to customer service, marketing or sales questions without requiring them to leave the social network or contact the call centre. This advantage allows companies in a range of industries to refocus their human capital on higher-level tasks.
"Putting cross-market companies within social media interaction points is critical for the success of today's branding strategy," states Chris Ezekiel, Founder & CEO of Creative Virtual. "Our goal is to continually build on our comprehensive suite of self-directed customer service solutions so our customers can evolve their customer relationships."
V-Person Social Media Benefits:
Social Network Integration: V-Person Social Media integrates with any social media channel including Facebook, Twitter, blogs and community forums making up-to-date company information available 24/7.
Customised Branding: V-Person Social Media allows companies to go beyond branding and add personality to their social profiles.
Customer Specific: V-Person Social Media aggregates company information making it easier for customers to get answers to their questions.
Natural Language: Customers ask questions and receive answers in natural language. As a result, customers can hold entire conversations with virtual assistants that will provide a consistent, personalised experience for fans and followers.
Real-Time Metrics: V-Person Social Media provides a unique level of business intelligence unavailable with traditional analytics.
"V-Person Social Media simplifies social media engagement by providing a robust solution for social customer service using virtual assistants that emulate real person interactions and provide a reliable, consistent customer experience," says Richard Simons, Creative Virtual USA CEO. "This addition to our customer solution suite is easy to scale and can be deployed from V-Portal™ our integrated multi-channel knowledge management platform, lowering cost per conversation."
V-Person Social Media leverages V-Portal to create, share, and manage contextually based conversations across a variety of web, social media, and mobile applications. Creative Virtual's virtual assistants tap into a company's knowledgebase to utilise all available information and deliver natural language conversations that improve customer experience. If human interaction is required, virtual assistants can intelligently identify and escalate issues via live chat, email or call back, using existing call centre management software.
Learn more about V-Person Social Media.
Related Chatbot:
Lisa