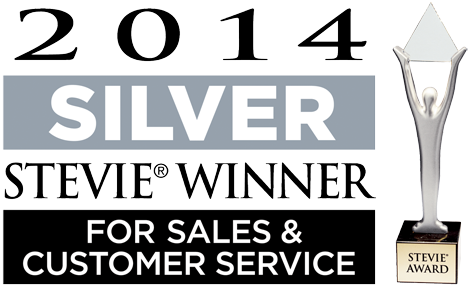 Creative Virtual, a leader in customer experience self-service solutions for global enterprises, was presented with two Stevie® Awards as part of the eighth annual Stevie Awards for Sales & Customer ServiceSM. The company was recognised with Silver Stevie Awards in the categories of 'New IVR or Web Service Solution' and 'Sales or Customer Service Solutions Technology Partner of the Year'.
The Stevie Awards for Sales & Customer Service are the world's top sales awards, contact centre awards, and customer service awards. The Stevie Awards organises several of the world's leading business awards shows including the prestigious American Business AwardsSM and International Business AwardsSM.
Over 1,500 nominations from organisations of all sizes and in virtually every industry were evaluated in this year's competition in 43 categories, an increase of 36% over 2013. More than 260 executives around the world participated in the judging process for the 2014 awards, to determine the Finalists and then the Gold, Silver and Bronze Stevie Award placements.
"My thanks to the Stevie Awards and the judging panels for selecting us for these two awards from a very impressive group of nominees," said Chris Ezekiel, Founder & CEO of Creative Virtual. "I share this honour with a talented international team and am proud of the expertise and experience Creative Virtual offers to organisations. As a pioneer in our industry, we have worked, and continue to work, diligently to provide innovative and powerful engagement solutions to our customers. These two new Silver Stevie Awards further reinforce the acceptance, need and demand for our technology within the sales and customer service space today."
Creative Virtual was also recognised with a Silver Stevie Award last year in the category of 'Most Innovative Company of the Year in Europe' as part of the International Business Awards. All three of their Stevie Award wins are credited to V-Portal™, the company's unique knowledge management, workflow and business intelligence reporting platform. V-Portal allows organisations to bring together cross-channel content, create consistent, accurate and personalised customer experiences and evolve their engagement strategy through powerful conversational and predictive analytic reporting.
"Entries to the Stevie Awards for Sales & Customer Service awards have almost doubled over the past few years," said Michael Gallagher, president and founder of the Stevie Awards. "Not only have we seen a dramatic increase in the number of entries; but the judges have also seen a remarkable rise in the quality of the nominations submitted overall. We congratulate all of this year's Stevie winners for their outstanding work."
Details about the Stevie Awards for Sales & Customer Service and the list of Stevie winners in all categories are available at http://www.StevieAwards.com/sales.