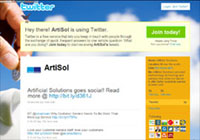 Artificial Solutions, the leader company on Customer Service Optimization, announced today the launch of its corporate profiles in Facebook, Twitter, YouTube and LinkedIn.
The company, which launched a new website and corporate image in July, wants to take advantage of the possibilities offered by the Web 2.0. to better interact and communicate with its clients and the public in general.
"Our objective with the launch of social media profiles is to be able to communicate with the public in a more direct way. By doing this, they don't have to look for us; we can bring our news as well as other interesting information about the market directly to them", says Stig von Linstow, VP of Sales of Artificial Solutions. "These corporate profiles will also allow our customers to send their feedback, ask questions, learn about others' experience and participate more actively in our business. It's just another way to do what we preach: Customer Service Optimization. We want to serve better!"
Corporate profiles on social media sites are just another step for Artificial Solutions as it continues to build its presence and awareness around the world.
To find Artificial Solutions inside the different social media sites please check the links below:
http://www.artificial-solutions.com/news/index.dot?id=9285