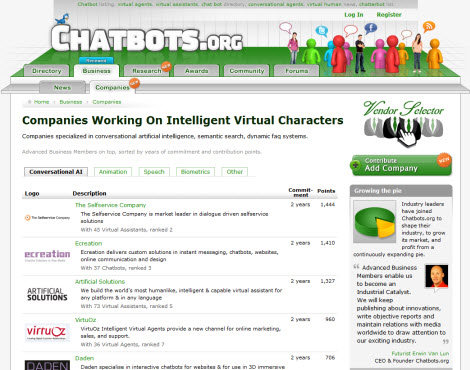 We are soooo excited to reveal our new companies section showing all leading providers in conversational AI, (3D) animation, speech synthesis and speech recognition and visual biometrics, and an additional Vendor Selector tool to select providers, designed for organizations their buying process!

This companies section will also reveal our advanced business members: Industry leaders who have joined our business program, contributed financially and therefore empowered us to move this industry forward. With their support, we have been able to further develop our role as an Industrial Catalyst, advancing the industry of Intelligent Virtual Characters.
Functionality
All new functionalities of version 2.8 of Chatbots.org are:
Full company listing We are revealing 283 companies who are contributing to the field of Intelligent Virtual Characters. Those organizations are active in conversational artificial intelligence, 2D and 3D avatar animation, automated voice & speech recognition or visual biometrics, or specialized in immediate related fields such as machine translation, gaming, face recognition, virtual worlds, automated story creation, text mining and even virtual physiological humans. Combined, these pages are the follow up of our initial page with 49 companies as published back in November 2009 with 'only' 49 companies ). We have learned that this list will never be complete and therefore it is now possible for anyone to add a company using a simple form, so this list is expected to grow exponentially. This section has proven to be the most comprehensive company directory in our field worldwide and we will continue to make it even more useful in the future.
Corporate contribution score: In our 2.7 release we introduced the individual contribution score, a system which assigns points to individual members upon contribution to the website. Points are assigned based on submitting chatbots, events, books, papers, news, publishers, and leaving comments, creating forum threads and posting responses. From now onwards, members who have linked themselves to a Chatbots.org registered company, will notice that their individual contribution points are added up to their company total. In addition, each assigned member, with a public profile, a photo, a bio and contact details earns bonus points. The more contribution points a company has earned, the higher its ranking on the company pages. This mechanism should motivate companies to contribute to the website, which is free of charge, but will still take time and resources (we always recommend to ask students who are keen to learn about this exciting field ). Companies which have more than xxx contribution points will have a contributing membership profile, upgrading from a candidate membership profile, which will be done automatically. Company profiles of contributing members will show their contribution to the website.
Advanced Business Membership Program: This program is designed for companies who would like to stay ahead of their competition, anticipate on market growth and who are keen to respond to leads generated through Chatbots.org. They have a premium, advanced business membership profile that is optimized for click-through to their website, enhanced visibility on many areas of the website, and they will have access to statistics on their profile including lead reporting. The advanced business membership program is not free of charge in order to generate revenue for Chatbots.org allowing us to move this market forward, to publish industry reports and to write articles about innovation in our area, which is quite time consuming. So, this is a win-win situation. We are growing the pie (i.e. this market), and all companies who own a share of the pie will benefit as they will notice an increase in their bottom line, even with an equal market share, just because the pie is growing and growing.
Vendor Selector: The Vendor Selector is a tool for buyers of conversational AI, typically consisting of contact center management, e-learning companies and game publishers. This tool allows for selecting vendors based on their experience, i.e. their own chatbot implementation as uploaded by these vendors, and keywords mentioned in the advanced business membership profiles. It is also possible to bookmark favorite companies. This tool has been designed based on interviews with large global corporations which have used our website previously to research our market.
Consultants: Although our industry is still in its infancy, we believe that this industry will soon be crowded with individual consultants and consultant firms assisting corporations with implementations of intelligent virtual character technology. We are proud to announce the first official consultant dedicated to our industry: Glenys McLaughin (from Australia).
Shop: We have implemented various functionalities optimized for international business services transactions. Aside from PayPal and Credit Card payments, it allows for proforma invoices, international bank transfer and shows estimates of mentioned amounts (in Euro) in any currency. Our first product in this shop is the Advanced Business Membership Program, a modest start, but we are prepared to roll out a variety of products in 2012 and 2013.
Investors: In our companies area, we have added a frame called 'investors'. We strongly believe that venture capitalists will soon discover this amazingly interesting industry. Just a few sentences now, but we are convinced that strongly believe this will come into fruition soon. We are more than happy to assist investors to identify companies in need of funding, and to help companies to find investors on the other hand.
Thanks!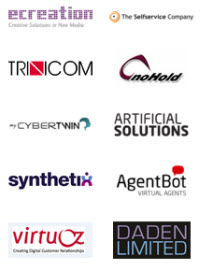 Chatbots.org is proud to act as an Industry Catalyst for Intelligent Virtual Characters. We are genuinely passionate about shaping and moving this industry forward to benefit all parties involved. We could not have done this without industry support. We would like to thank eCreation, The Selfservice Company, Trinicom, noHold, My Cybertwin, Artificial Solutions, Synthetix, AgentBot, VirtuOz and Daden for their confidence, loyalty and future visions. These are the ten companies which pre-joined our program before it was even launched; they believed in my promises and by contributing financially at an early stage, it allowed us to develop this program, the contribution system and the Vendor Selector tool. We genuinely hope and expect that we will deliver on their expectations of Chatbots.org!
Also a VERY BIG THANK YOU to Arthur, working in the US, who has managed to finalize an incredible amount of development & design work while facing several deadlines, suffering from my pressure and constantly changing ideas and feedback. I'm not the easiest person to work with, which I'm aware of. But it's a true pleasure to work with you Arthur!
And at last many many thanks for Karolina, from Poland, less visible, but you did a fantastic job on gathering all those companies. You're a great believer in Chatbots.org's vision and always researching any element of our wonderful industry. Love having you 'around'!
What's next?
Anyone who has followed Chatbots.org from the early stages onwards, will have noticed that we will keep on evolving (check out our history), please see below a couple of to-do items from our wish list::
New home page: A brand new, sleek, eye catching, news-like styled home page, which demonstrates in a single glance that this website is about Intelligent Virtual Characters. Also, we would like to use more visual elements (without slowing down the website) to enhance the emotional website experience and to prepare for mobile usage.
Forum upgrades: We would like to modernize our forum functionality, integrated more deeply with the remaining website, and we will also add new forum boards such as 3D avatar animation, speech technology and robo ethics.
Socialize: We have recently replaced the old 'social bookmarking bar' with social media tools from Facebook, LinkedIn, Twitter and Google Plus. This was just the beginning. We would like to integrate our website more deeply with these platforms.
Chatbots.org Chatbot: One of the most controversial topics: We will need our own chatbot, representing Chatbots.org, capable of answering questions about intelligent virtual characters, about our content and about our community. It will be quite a challenge as we can only select one technology, making one supplier happy, but we are pretty sure that we will find a solution to this issue!
Aside from our technological development, we will also strengthen our ties with the global media, produce appealing articles to be published in leading magazines worldwide, and create useful and objective Industry Reports for buyers interesting in this technology.
We expect that with this new economic downturn (I personally expect we are facing a bigger recession than we have ever had before), will be beneficial to our industry, as all organizations worldwide will be trying to reduce costs and improve sales, and that is exactly why chatbots are being developed. We will be focusing on creating awareness of this fantastic technology to all related media worldwide.
Enjoy the show and don't forget to leave your feedback in the comment form below! And don't forget to tweet, like and '+'. These buttons are everywhere nowadays

.